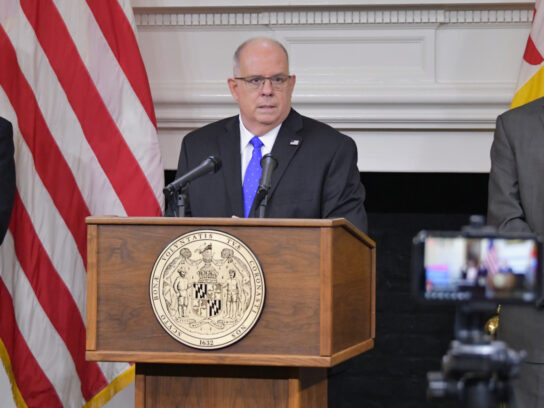 Gov. Larry Hogan announced at a press briefing Thursday new emergency financial relief for businesses and renters ahead of the holidays. He was joined at the briefing by Maryland Commerce Secretary Kelly Schulz and Maryland Housing Secretary Ken Holt.
Hogan did not announce any new statewide coronavirus restrictions but said — based on the rising case numbers in Maryland — "It is clear that we are experiencing a post-Thanksgiving surge." This comes as Maryland Department of Health reported its second-highest number of new daily coronavirus cases since the start of the pandemic Thursday.
Hogan said he signed an executive order to protect businesses from sudden increases in unemployment taxes. He also directed the Maryland Department of Commerce to forgive businesses who used an emergency loan from the state's $75 million emergency relief loan program that started in March. The loans will be converted to grants so they will not have to be repaid.
This will help about 1,650 businesses that are receiving loans through this program. https://t.co/tH30wdAEyy

— Michael Ricci (@riccimike) December 10, 2020
"We are immediately taking additional state actions to help businesses struggling to hang on to avoid the prospect of more layoffs right before Christmas or being forced to go out of business in a matter of weeks," Hogan said.
Hogan said the state will fund $25 million in low-income housing tax credit projects, which will allow for the construction of 2,000 new affordable housing units. The state is also providing $12 million through its Rental Housing Works Program, which Hogan said will create more construction jobs and projects.
The state will also provide $94 million in grants to help Marylanders with diabetes, Hogan said.
Marylanders are urged to speak to their physician about their risk for diabetes, and go online to know their risk.

An easy 60-second risk test from the American Diabetes Association can help everyone: https://t.co/BKkRKdT9En

— Maryland Department of Health (@MDHealthDept) December 10, 2020
Hogan made note that Thursday marks the first night of Hanukkah.
He said, "Hanukkah is the story of how a small group of people can make a powerful difference, and it is a celebration of the victory of hope over fear, and light over darkness. It is a powerful message for us, especially this holiday season."
Hogan urged Congress to pass another relief bill, ideally this week. He said he spoke with U.S. House Speaker Nancy Pelosi (D-Calif.) and several other Senate leaders this week.
"I don't care if it's a Republican plan or Democratic plan, we have to get [financial relief] out to these people like right now," Hogan said.
When Hogan was asking questions, a reporter noted that many county leaders will be disappointed in the press briefing because nine leaders from Maryland's largest jurisdictions, including County Executive Marc Elrich, met virtually Wednesday to discuss imposing tighter coronavirus restrictions. The reporter asked if Hogan would be more open to imposing tighter restrictions if Congress passed another relief bill.
Hogan did not directly answer the question but said for months he's granted jurisdictions the authority to impose restrictions that go further than the state.
"We're not going to be dictated to what we should do based on what one or two other people do," Hogan said.
Hogan says he doesn't want to criticize the decision in Anne Arundel and Baltimore City to close outdoor dining, but he disagrees with it. @mymcmedia

— Deirdre Byrne (@DeirdreByrneMCM) December 10, 2020
He said he did not want to criticize the decisions of county leaders, but the state will continue making its decisions based on data and trying to keep as many people working as possible.
"It's a delicate balance," Hogan said.
Hogan said he will be speaking to D.C. Mayor Muriel Bowser and Virginia Gov. Ralph Northam Friday about the regional response to the coronavirus. He said the state needs more federal relief.
"We're going to have more people unemployed, we're going to lose more businesses" if the state doesn't get more federal help, Hogan said.
Related Posts:
Maryland, Montgomery Record Second-Highest Number of New COVID-19 Cases
Elrich Moves to Suspend Indoor Dining; Order Requires Council Approval