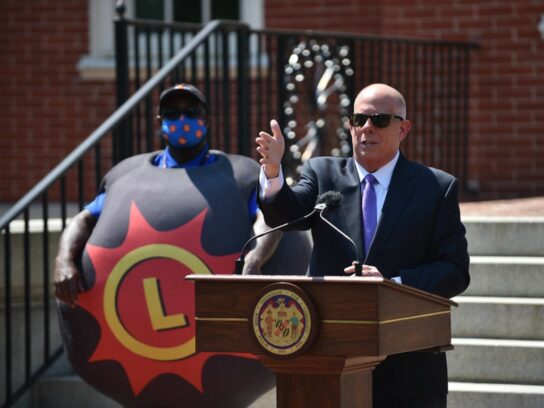 Los residentes de Maryland de 18 años o más que se vacunen contra COVID-19 en el estado ingresarán automáticamente a una nueva lotería, anunció el gobernador Larry Hogan durante una conferencia de prensa el jueves.
A partir del martes 25 de mayo, la Lotería de Maryland otorgará aleatoriamente $40,000 a un residente vacunado durante 40 días consecutivos, hasta el 3 de julio. El 4 de julio, Hogan dijo que "un Marylander afortunado vacunado" ganará un gran premio de $400,000. La lotería asciende a 2 millones de dólares en premios para 41 residentes.
El ingreso es automático: se ingresa a todos los adultos de Maryland que recibieron su vacuna COVID-19 en cualquier momento en el estado. El departamento de salud del estado notificará a los ganadores.
"Si aún no ha sido vacunado, cuanto antes lo haga, más sorteos de lotería podrá participar", dijo Hogan. Todos los fondos provienen del fondo de marketing de la Lotería de Maryland, dijo.
El director de juegos y lotería de Maryland, Gordon Medenica, dijo que el departamento de salud del estado adjuntará una serie de números a cada residente vacunado, y la Lotería de Maryland lo usará dentro de un generador de números aleatorios para elegir un ganador cada día. Luego, el departamento de salud usará ese número para ubicar y notificar a los ganadores. Los residentes deberán firmar y dar su consentimiento para recibir el premio, y luego la Lotería podrá contactar a los ganadores y pasar por el proceso de reclamo habitual. Los ganadores pueden permanecer en el anonimato.
"Sin embargo, lo disfrutaríamos mucho si al menos algunos de nuestros ganadores nos permitieran celebrar con ellos su racha de suerte", dijo Medenica.
Announcing the Maryland Lottery $2 Million VaxCash Promotion! From May 25th – July 3rd, one lucky vaccinated Marylander will win $40,000 each day! And on July 4th, one lucky vaccinated Marylander will win $400,000! Learn more here: https://t.co/cUK1ERVCdF pic.twitter.com/sxZRGOlqO8

— Maryland Lottery (@MDLottery) May 20, 2021
Hogan señaló que los residentes ingresarán a la lotería rápidamente después de ser vacunados. Él cree que incluso si los residentes reciben su vacuna el 3 de julio, deberían ser elegibles para el gran premio del 4 de julio.
"Por favor, vacúnese para que finalmente todos podamos volver a nuestra vida normal. Y si necesitabas una buena razón más, sal y vacúnate para tener la oportunidad de ganar una parte de estos $ 2 millones ", dijo Hogan.
Get your shot for a shot to win a share of $2 million! #VaxToWin pic.twitter.com/g4SifS6RwD

— Governor Larry Hogan (@GovLarryHogan) May 21, 2021
Maryland has now surpassed 5.8 million vaccinations. If you haven't yet gotten your shot, there's no better time.

If you need one more good reason, go out and get vaccinated for a chance to win a share of $2 million! https://t.co/MjHeoZ5E5J #VaxToWin pic.twitter.com/kGzBfLYJWT

— Governor Larry Hogan (@GovLarryHogan) May 21, 2021