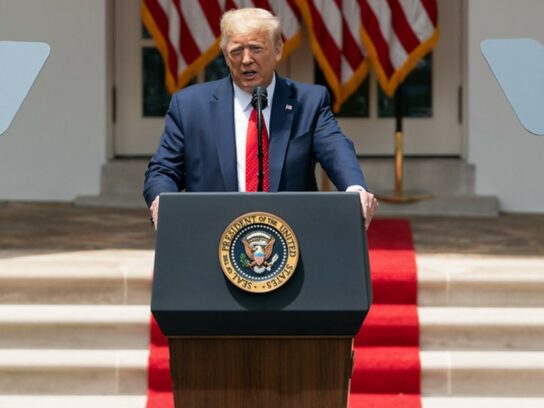 El gobernador Larry Hogan tuiteó el viernes por la mañana sobre la noticia de que el presidente Donald Trump y la primera dama Melania Trump dieron positivo por coronavirus.
"Yumi y yo deseamos al presidente Trump y a la Primera Dama una pronta recuperación. Nuestros pensamientos y nuestras oraciones están con ambos", tuiteó Hogan.
Yumi and I are wishing President Trump and the First Lady a speedy recovery. Our thoughts and our prayers are with them both.

— Governor Larry Hogan (@GovLarryHogan) October 2, 2020
El presidente Trump anunció en Twitter, la madrugada del viernes, que contrajo el virus y que él y la primera dama están comenzando su recuperación. Devin O'Malley, el portavoz del vicepresidente Mike Pence, tuiteó el viernes que el vicepresidente y la segunda dama Karen Pence dieron negativo por coronavirus.
El representante estadounidense David Trone (D-Md.6o) también tuiteó que espera que el presidente y la primera dama tengan una pronta recuperación.
"Es necesario que todos podamos detener la propagación de #COVID19. Recuerde usar una máscara, distancia social y hacerse la prueba si tiene síntomas", tuiteó Trone.
June and I send our prayers to President Trump and his wife for a speedy recovery.

It takes all of us to stop the spread of #COVID19. Please remember to wear a mask, social distance, and get tested if you have symptoms.

— Rep. David Trone (@RepDavidTrone) October 2, 2020