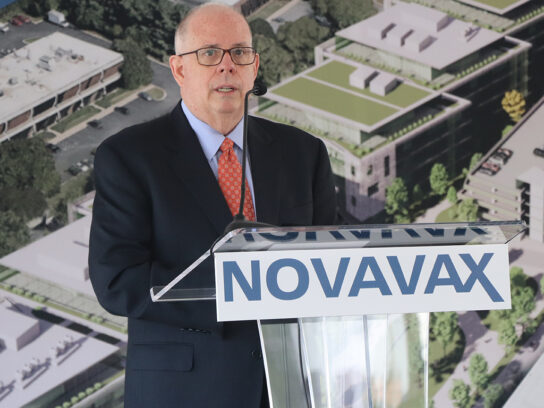 El gobernador Larry Hogan y otros líderes visitaron Gaithersburg el jueves para recorrer el sitio de la futura sede mundial de Novavax.
Hace más de un año, Novavax comenzó a desarrollar una vacuna COVID-19. Stan Erck, presidente y director ejecutivo de Novavax, dijo que Novavax está completando la fase tres de los ensayos de vacunas y los resultados han sido prometedores.
"Me complace decir que los datos llegarán muy pronto, de hecho, esperamos anunciar esos datos la próxima semana", dijo Erck.
El ex director de los CDC, el Dr. Robert Redfield, se desempeñará como asesor estratégico de Novavax. Ha estado aconsejando la respuesta de Hogan a la pandemia desde principios de año.
El presidente del concejo, Tom Hucker, dijo que estaba emocionado de que la expansión de Novavax traerá 500 puestos de trabajo más al condado de Montgomery.
El ejecutivo del condado, Marc Elrich, elogió al Concejo Municipal de Gaithersburg por su intención sobre cómo se usaría la propiedad de 180,000 pies cuadrados. Elrich dijo que el concejo había recibido previamente otras propuestas para usar la propiedad en 14 Firstfield Road para viviendas, concesionarios de automóviles o unidades de almacenamiento. "Tuvieron la previsión de esperar algo que fuera importante".
Here's the moment at this morning's press briefing when @GovLarryHogan accidentally unveiled @Novavax's new 180,000 square feet campus to house its future global headquarters. @mymcmedia pic.twitter.com/n4Ypi2qURm

— Deirdre Byrne (@DeirdreByrneMCM) June 10, 2021
La expansión de Novavax en Gaithersburg continúa colocando a las empresas de biotecnología del condado de Montgomery a la vanguardia de la lucha nacional contra las enfermedades infecciosas.
Hogan dijo: "Si bien COVID-19 puso el trabajo de Novavax en el centro de atención durante el año pasado, sus contribuciones para salvar vidas a la ciencia y la medicina no se detienen ahí. Ha sido un miembro valioso de la comunidad biotecnológica de Maryland durante décadas, y estamos muy contentos de que Novavax continúe su trabajo de salvar vidas aquí durante muchos años más ".