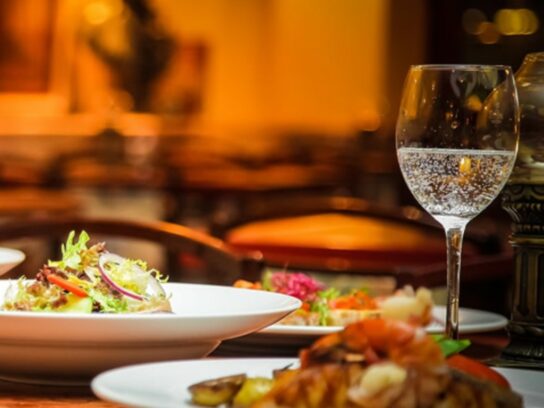 Montgomery County will resume indoor dining at 25% capacity beginning Sunday, Feb. 14 at 7 a.m.
The county council voted 7-2 on Tuesday to approve County Executive Marc Elrich's executive order to make the change. Customers are limited to a 90-minute indoor dining period and on-site alcohol consumption must stop at 10 p.m. According to Elrich's order, "dining period" is "the period of time from when the customer is seated until the time the customer exits the establishment after consumption of their food and/or beverage."
Councilmember Hans Riemer said the complete closure of indoor dining is an extreme measure for extreme transmission levels, which is why he supported it over the holiday season.
"However, we have multiple obligations. We cannot only do the things that will most limit transmission. If that was our posture, we would enforce a stay at home order," he said. Riemer said zero indoor dining exceeds what is necessary based on transmission levels, which are significantly lower than when they peaked. He recalled when Montgomery County reported new COVID-19 case counts in the 600s in December and January. The county's data dashboard shows new case count trending downward beginning mid-January; the county has not reported daily new cases greater than 500 since Jan. 16. Riemer said he will not be dining indoors and does not think it is safe.
Councilmember Nancy Navarro also said she does not feel comfortable dining indoors. But, she said it's prudent to reopen indoor dining at 25%, "understanding the economic impact and the fact that we are the outliers, and then revisit if we need to."
NEW: The Montgomery County Council votes 7-2 to approve CE Elrich's order to bring back indoor dining at 25% capacity starting Valentine's Day at 7 a.m.

90-minute indoor dining limit, no on-site alcohol after 10 p.m. @mymcmedia

— Maryam Shahzad (@maryam_mcm) February 9, 2021
Councilmembers Will Jawando and Craig Rice voted against the order.
"The idea that we would be doing an executive order to encourage people to go out on Valentine's Day– a holiday where you're going to have a lot of people out– it flies in the face of public health guidance," Jawando said during Tuesday's council meeting. He said he has spoken with public health officials, including the county's, who said indoor dining is not safe.
During a council meeting Feb. 2, Emergency Management and Homeland Security Director Dr. Earl Stoddard said indoor dining is a "dangerous activity," but that metrics had improved to a point where Elrich decided "that damage caused by the economic harm may be exceeding that of the harm from a public health perspective." Still, Stoddard made it clear last week that he would not dine indoors under the new order.
"That does not change the fact that in my view, and I certainly believe Dr. Gayles and Dr. Crowel agree, that doesn't make indoor dining a safe activity," Stoddard said. "You will not see us participating in any of those activities."
Jawando said on Tuesday, "But we can't tell and send the signal to residents to do an activity that we know our public health officials say is unsafe– that we wouldn't do ourselves– and say let's open up on a major holiday so that restaurants can get the business." He said he knows businesses are hurting hard and will vigorously support getting more federal, state and local financial aid to them.
Rice also noted Stoddard's comments last week, and said reopening indoor dining could interfere with the ability to return to in-person learning in a timely manner. He said he is concerned about restaurant employees, many of whom he said are Black and brown, lower-income residents "who will be jeopardized, spending hours at a time being subjected to multiple people– who, they have no idea about their status in terms of contracting COVID[-19] and are put at risk."
Councilmember @willjawando says he can't support indoor dining at 25%.

"The idea that we would be doing an executive order to encourage people to go out on Valentine's Day… it flies in the face of public health guidance." @mymcmedia

— Maryam Shahzad (@maryam_mcm) February 9, 2021