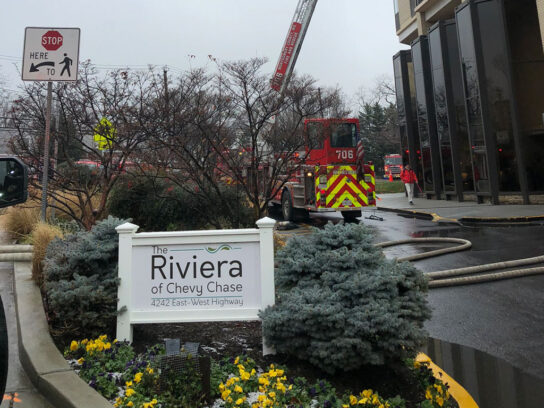 A fire at the Riveria House, an 11 story apartment complex on East-West Highway in Chevy Chase, has caused $75,000 worth of damages. As a result of the fire, two families have been displaced from the apartment complex.
According to Pete Piringer, spokesperson for Montgomery County Fire and Rescue, the fire started on the seventh floor in an apartment kitchen. The fire was likely caused when a combustible item in the dishwasher made contact with the heating element, Piringer said.
Update – 4242 East West Hwy, Riveria House; 7th floor; Cause, dishwasher, combustible item likely contacted heating element; Area of Origin, kitchen; Damage, ~$75K; 2 families displaced, 2/3 units posted unsafe to occupy; no injuries; @mcfrs FFs removed caged pet guinea pig pic.twitter.com/vZKRAcikbr

— Pete Piringer (@mcfrsPIO) December 16, 2019
First responders were dispatched to the scene at about 10 a.m. on Monday—at the time, the seventh-floor apartment was unoccupied. More than 85 firefighters responded to the fire and they instructed residents in some parts of the building to evacuate and other residents were instructed to shelter in place.
Firefighters had the fire under control by 10:45 a.m. Piringer said the fire was contained in the kitchen but smoke traveled to other areas in the apartment building.
Update – 4242 East West Hwy, Chevy Chase, 11-sty residential, fire in 7th floor apt, fire contained to apt of origin, partial resident evacuation while others sheltered-in-place, no injuries, smoke on several floors, some residents will be displaced pic.twitter.com/PY0hHsUlHz

— Pete Piringer (@mcfrsPIO) December 16, 2019
No one was reported injured in the fire and Piringer tweeted that firefighters also rescued a pet guinea pig.
The fire caused significant delays in the Bethesda-Chevy Chase area. There were closures on East-West Highway in both directions at Montgomery Avenue. Before 12:30 p.m., all eastbound lanes of East-West Highway had reopened.
All eastbound lanes of East West Hwy (MD-410) at Montgomery Ave. are now open. Expect residual delays. Seek alternate route. #MDTRAFFIC

— MC Emergency Mgmt (@ReadyMontgomery) December 16, 2019