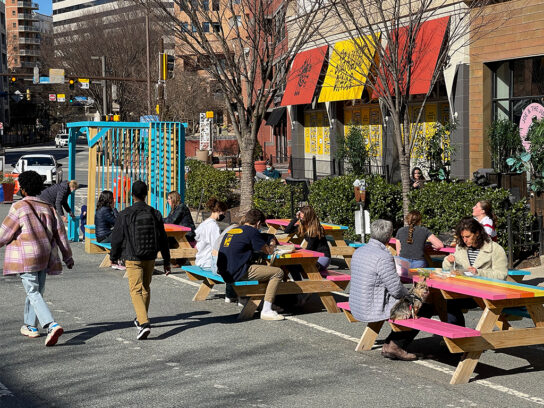 El gobernador Larry Hogan anunció en una conferencia de prensa el martes que el estado comenzará a levantar algunas restricciones como los límites de capacidad en bares, restaurantes y otros establecimientos.
La orden ejecutiva de Hogan significa que a partir del viernes a las 5 p.m., se levantarán los límites de capacidad para los restaurantes y establecimientos de servicio de comidas al interior y exterior de los establecimientos. La orden señala que los restaurantes y bares solo pueden mantener ofreciendo sus servicios, si los clientes están sentados y a distancia. No se permitirá el hacinamiento en los bares.
With sustained vaccine progress and significant improvements in our key COVID-19 metrics, today I announced that we will be easing certain mitigation measures in our state.

Details: https://t.co/mG00tkGAfy pic.twitter.com/0erIVqaLUL

— Governor Larry Hogan (@GovLarryHogan) March 9, 2021
La orden ejecutiva también levanta los límites estatales de capacidad en negocios minoristas, instalaciones religiosas, gimnasios, servicios personales (como salones de belleza) y establecimientos recreativos bajo techo. Los grandes espacios interiores y exteriores para bodas, conciertos, convenciones, teatros y recintos deportivos pueden comenzar a operar al 50% de su capacidad.
Hogan también anunció en una orden ejecutiva que se permite que los centros de cuidado y guardería para adultos de la tercera, edad vuelvan a abrir con las medidas de seguridad adecuadas en vigor.
Capacity limits will also be lifted on retail businesses, religious facilities, fitness centers, casinos, personal services, and indoor recreational establishments. Larger outdoor and indoor venues may begin operating at 50% capacity.

— Governor Larry Hogan (@GovLarryHogan) March 9, 2021
Hogan dijo: "[Todo el progreso de nuestra vacuna junto con todas nuestras mejoras sostenidas sobre la tasa de casos positivos y las hospitalizaciones, nos han permitido seguir la ciencia y poder tomar medidas significativas para aliviar aún más las medidas de mitigación que se encuentran actualmente en vigor ".
Si bien los límites de capacidad se están ampliando, Hogan dijo que el mandato del uso de la máscara en todo el estado y otras órdenes de salud, como el distanciamiento físico, permanecen vigentes.
We need to continue doing the things that can keep us safe, but there can be no doubt that we are closer to the light at the end of the tunnel and a return to some sense of normalcy in our lives. Spring will soon be upon us, and sunnier days are ahead.

— Governor Larry Hogan (@GovLarryHogan) March 9, 2021
"El paso muy simple de usar máscaras sigue siendo la mejor estrategia de mitigación que tenemos para detener la propagación de COVID-19", dijo Hogan.
El aviso sobre los viajes del Departamento de Salud de Maryland sigue vigente, pero se han levantado las restricciones de cuarentena sobre viajes fuera del estado. Todavía se alienta a los residentes de Maryland a hacerse una prueba de coronavirus cuando regresen de otro estado.
Hogan dijo que el estado continúa trabajando con las jurisdicciones locales para abrir más sitios de vacunación masiva, una vez que aumente el suministro de vacunas. El gobernador señaló que el sitio de vacunación masiva de Hagerstown abre el 25 de marzo.
Los líderes locales señalan que es poco probable que el condado siga las nuevas órdenes de Hogan
Los funcionarios del condado de Montgomery no han anunciado si aceptarán las órdenes ejecutivas estatales de Hogan. Mary Anderson, portavoz de Salud y Servicios Humanos del Condado de Montgomery, dijo en un correo electrónico a MyMCM que el condado todavía está "asimilando" las nuevas órdenes del gobernador.
"Escuchamos sobre los planes y anuncios del gobernador al mismo tiempo que el público, así que lo estamos revisando en este momento", escribió Anderson.
Antes de la conferencia de prensa de Hogan, el Dr. Travis Gayles, oficial de salud del condado de Montgomery, habló ante el Concejo del condado y dijo que sospechaba que el gobernador hablaría en su conferencia de prensa sobre la guía de reapertura actualizada.
Gayles señaló que el condado continuaría operando a un ritmo más lento que el estado cuando se tratara de aliviar las restricciones.
"Quiero que nuestra gente en casa entienda que continuamos monitoreando la situación y brindando orientación que no sea demasiado agresiva, que nos pondría en una posición en la que podríamos ser extremadamente vulnerables a la presencia de cepas variantes, así como a la potencia", dijo Gayles.
Here's a look earlier today at the @MoCoCouncilMD meeting. Dr. Travis Gayles talks about the possibility of Hogan announcing the lifting of restrictions. It sounds like the county will look into easing some things, but it looks unlikely the county will go as far as Hogan's order. pic.twitter.com/qWdkb4jRyH

— Deirdre Byrne (@DeirdreByrneMCM) March 9, 2021
Asegurar que el número de casos no aumente significativamente es especialmente importante a medida que los niños están comenzando a regresar a las escuelas, dijo Gayles. Según Gayles, los funcionarios de salud del condado están buscando alivianar algunas restricciones; una de esas restricciones podría ser que la capacidad de cuidado de niños regrese al nivel estatal.
El Dr. Earl Stoddard, director de Manejo de Emergencias y Seguridad Nacional del Condado de Montgomery, dijo que los funcionarios están redactando una orden ejecutiva con una guía actualizada de salud pública que probablemente se enviará al Concejo esta semana para su votación el 16 de marzo.
Después de la conferencia de prensa de Hogan, dos miembros del Concejo del Condado de Montgomery utilizaron Twitter para criticar al gobernador por alivianar las restricciones.
El presidente del Concejo, Tom Hucker, comparó a Hogan con el gobernador de Texas, Greg Abbott (R), quien recientemente anunció que los restaurantes podrían operar a plena capacidad y, a diferencia de Hogan, levantó el mandato estatal del uso de máscaras.
Better headline: "Unsatisfied with Maryland's ranking among the worst states for vaccine rollout, and pressured by TX Gov. Greg Abbott, Gov. Hogan redoubles his efforts to drive cases up and MD's ranking down."https://t.co/hyMX01DuDK

— Tom Hucker (he/him) (@tomhucker) March 9, 2021
El Concejal Will Jawando tuiteó que la guía "va en contra de la guía de salud pública, incluida la del Dr. Fauci".
While residents continue to hunt for vaccines and our health departments were given no notice of the change. #Hogan

— Will Jawando (@willjawando) March 9, 2021