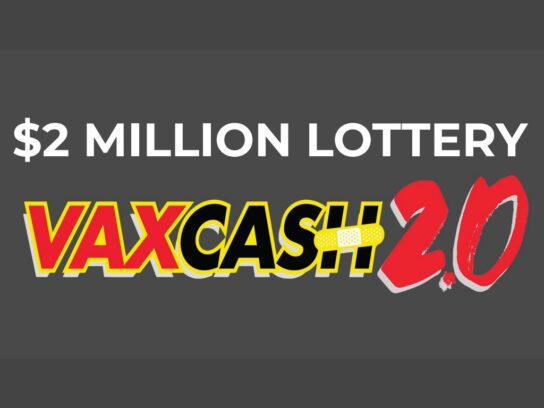 As part of an incentive to get Marylanders fully vaccinated, Gov. Larry Hogan announced today in a press briefing a new booster action program, which includes $2 million offered by the Maryland Lottery for boosted residents.
"We have turned back another dangerous variant of COVID-19," Hogan said. The previous 30-day state of emergency for the Omicron variant ended on Monday.
"Fortunately we're in a much different position than we were a month ago," Hogan said. "Maryland is emerging from the Omicron wave faster and stronger than virtually any other state in America."
Today I announced a $2 million VaxCash 2.0 promotion as part of our new COVID-19 booster action plan to get more Marylanders fully protected from COVID-19 and its variants.

Details: https://t.co/w4aStkebgH pic.twitter.com/uFwSfeuL8C

— Governor Larry Hogan (@GovLarryHogan) February 8, 2022
Maryland's daily positivity rate is lower than at least 41 other states, according to Hogan. One of the most vaccinated states in the nation, Maryland has issued 11.1 million vaccines. Of Maryland adults, 95% are vaccinated, while 82% of 12-17 year olds and 43% of 5-11 year olds have received the shot.
Yet, at just 2.1 million adults, not nearly as many residents have received their booster shot. Hogan noted speaking with residents who received misinformation about getting the booster, whether or not it was needed and who was eligible.
"No one should consider themselves fully protected unless they got the booster shot," Hogan said. He reminded Marylanders that every resident 18 years old or older is eligible to receive their booster shot.
As part of the new booster action program, the Maryland Lottery plans to launch a promotion on Feb. 15 awarding cash prizes to a total of 12 Marylanders who have received their booster shot.
After the initial drawing for $500,000 next Tuesday, $50,000 prizes will be awarded to residents over the following 10 weeks. One lucky boosted Marylander will win $1 million on May 3.
All Maryland residents 18 years old or older who have received their booster shot prior to each drawing will be eligible for the promotion. No registration is necessary.
Booster shots will be offered at many state-run hospital testing sites in the coming days, Hogan said. Texts and calls assisting Marylanders in scheduling booster appointments, transportation to vaccination sites, and delivering boosters to homebound residents will also increase.
When asked if Maryland would be prepared in the case another coronavirus variant rises, Hogan responded with, "I think we're all as prepared as we can possibly be."