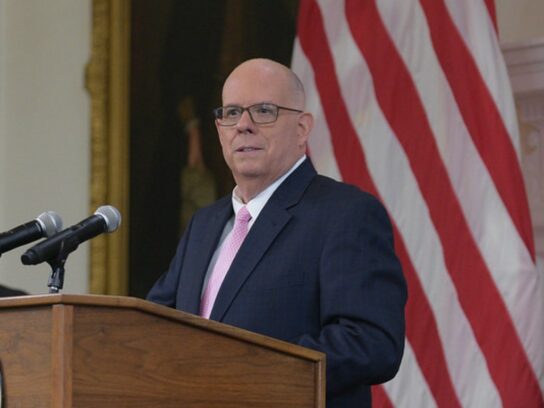 El gobernador Larry Hogan anuncio el jueves que todos los residentes de Maryland mayores de 16 años pueden preregistrarse con el estado para obtener la vacuna contra el COVID-19 en un sitio de vacunación masiva.
Hogan dijo que el estado probablemente podrá anunciar una amplia aceleración de la elegibilidad de la vacuna en los próximos días. El martes se reunió con el Grupo de Trabajo de Coronavirus de la Casa Blanca, y esta semana el estado comenzó a ver un aumento en las dosis de vacunas del gobierno federal. Hogan dijo que la Casa Blanca prometió un suministro similar en las próximas semanas.
Él enfatizó  que las personas actualmente elegibles para las vacunas en las Fases 1 y 2 seguirán teniendo prioridad para las citas. El departamento de salud del condado de Montgomery abrió la preregistración para residentes mayores de 16 años el miércoles.
El martes, Maryland entró a la Fase 2B de la vacuna contra el COVID-19, ampliando la elegibilidad a los residentes mayores de 16 años con afecciones médicas subyacentes que aumentan su riesgo del coronavirus y aquellos con discapacidades. Durante una conferencia de prensa el 18 de marzo, Hogan dijo que Maryland entrará en la Fase 2C el 13 de abril, lo que hará que los residentes de Maryland mayores de 55 años y los trabajadores esenciales de todas las edades en industrias críticas sean elegibles. Esas industrias incluyen servicios de comida, construcción, servicios financieros y tecnología informática, entre otros.
Effective immediately, ALL MARYLANDERS age 16 and older can now pre-register for an appointment to receive a COVID-19 vaccine at a mass vaccination site.

Details: https://t.co/BHaChGKYLo pic.twitter.com/CHGHruOAdY

— Governor Larry Hogan (@GovLarryHogan) April 1, 2021
Hogan también anunció que a partir del viernes, el sitio de vacunación masiva de Salisbury en el Centro Cívico y Juvenil de Wicomico abrirá una "línea sin necesidad de una cita previa" para cualquier residente elegible. Dijo que el estado también planea agregar líneas sin cita previa en otros sitios de vacunación masiva.
"Sin embargo, seguimos recomendando que la mejor manera de garantizar que usted reciba una vacuna en cualquiera de nuestros sitios es preregistrandose y programando una cita, nuevamente en covidvax.maryland.gov para asegurarse de que una vacuna y una cita estén disponibles para usted", dijo Hogan.
También el jueves, Hogan dijo que ordenó a los departamentos estatales de salud y envejecimiento a que trabajen con las jurisdicciones para planificar reaperturas seguras de los centros para personas mayores. Dijo que antes de la reapertura, se llevarán a cabo "clínicas de vacunación en cápsulas cerradas" en los centros para personas mayores.
If you are age 16 and older, you may now preregister for a #COVID19 vaccine appointment.
Visit the County's website for more info: https://t.co/kzDSkv93K1.#GoVaxMontgomery #SleeveUp@MoCoDHHS pic.twitter.com/Oq45pv9UOx

— Montgomery County MD (@MontgomeryCoMD) April 2, 2021