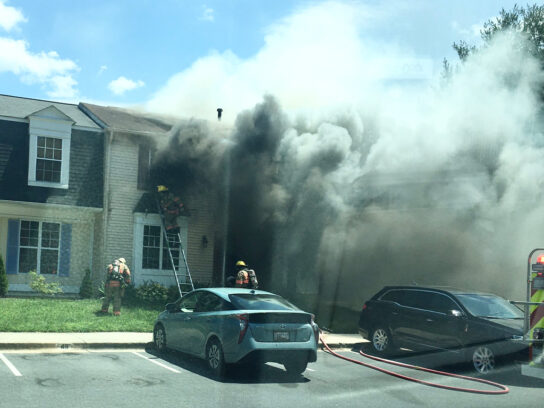 Actualización (martes, 7:45 p.m.): Pete Piringer tuiteó el martes que un hombre adulto ha sido arrestado en relación con el incendio de la casa de White Oak. Piringer le dijo a MyMCMedia que el hombre estaba relacionado con la familia que vivía en la casa.
El hombre enfrenta cargos por incendio premeditado de primer grado, peligro imprudente, quema maliciosa de primer grado y otros cargos están pendientes.
Piringer tuiteó que los daños se estiman alrededor de $ 250,000.
Update – 1700blk Featherwood St, White Oak, MOR TH, 1 resident RESCUED & 1 other Adult male ARRESTED (Arson 1st Degree, Reckless Endangerment, Malicious Burning 1st Degree, other charges pending; Origin & Cause: Incendiary (arson); Damages: >$250K, incl $200k bldg, $50k Contents https://t.co/GVbuzTFBmf

— Pete Piringer (@mcfrsPIO) June 30, 2020
NOTA PREVIA
Un sospechoso ha sido detenido para ser interrogado sobre la posibilidad de provocar un incendio en una casa en el área de White Oak, el martes por la tarde, según Pete Piringer, portavoz de los Servicios de Bomberos y Rescate del Condado de Montgomery.
Piringer dice que a las 1:45 p.m., alrededor de 100 bomberos llegaron a la cuadra 1700 de Featherwood Street (cerca de Old Columbia Pike), para apagar un "incendio intenso" después de recibir informes sobre una casa que fue incendiada intencionalmente.
Los bomberos también recibieron informes de que varias personas quedaron atrapadas en la casa, pero en el lugar, Piringer dijo que solo encontraron a una mujer atrapada, y que los bomberos la pudieron rescatar, dijo Piringer.
Los bomberos no encontraron de inmediato al sospechoso de prender fuego a la casa, dijo Piringer. Sin embargo, "los oficiales de patrulla del condado de Montgomery lo hallaron a un par de cuadras de la escena". añadió.
Update – Featherwood St, White Oak, MOR TH, 1 person rescued (no injury), preliminary cause intentionally set (arson), person of interest in custody & being questioned, 2nd Alarm ~ 100 FFs on scene, several families may be displaced https://t.co/5Gi72FDQDe pic.twitter.com/DlScRjuaIa

— Pete Piringer (@mcfrsPIO) June 30, 2020
El sospechoso, un miembro de la familia, fue detenido y está siendo interrogado por los investigadores de incendios del condado de Montgomery, dijo Piringer.
Piringer añadió que los bomberos extinguieron el fuego en unos 15 minutos y pudieron rescatar a todos los miembros de la casa. La familia será desplazada y según autoridades, se espera que las familias que viven en las casas de los alrededores también sean desplazadas. Sin embargo, el costo de los daños aún no está claro.
https://www.instagram.com/p/CCEvcI0hYto/