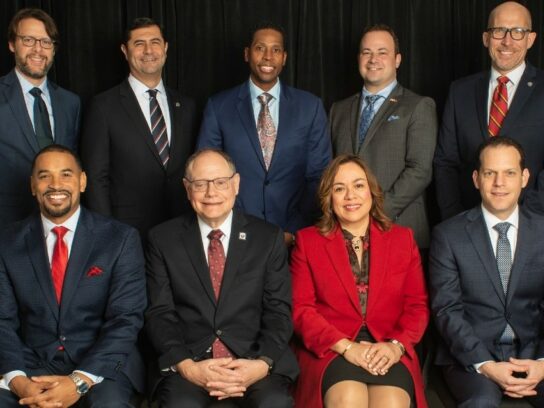 Although communication with the state has improved, no one in Montgomery County received any warning before Gov. Larry Hogan's Stay at Home order Monday, said Office of Emergency Management and Homeland Security Director Earl Stoddard as far as he knows at county council meeting Tuesday.
He said he's not sure why they didn't get a heads-up, and believes everyone was taken by surprise. 
Hogan issued the order to tell Marylanders not to leave their homes unless it is for an essential reason/activity in order to help slow the spread of COVID-19.
Councilmember Gabe Albornoz asked when Montgomery County can expect a surge period in COVID-19 cases. He said it was originally projected for late-May/early-June, and wondered if it may be earlier. 
County Health Officer and Chief of Public Health Services Dr. Travis Gayles said the county Department of Health and Human Services (DHHS) is still trying to approximate that. But, he forecasts a surge sooner rather than later, in the span of the next several weeks. Gayles said the next two weeks will be instrumental in when the peak occurs. 
Stoddard emphasized that residents have a lot of control over when the peak will be through their social distancing behavior.
As of Tuesday morning there are 1,660 positive COVID-19 cases in Maryland, with 388 in Montgomery County. There have been 18 deaths in the state, with one in Montgomery County. 
Happening now: Council is getting an update on #Covid-19 from Dr. Travis Gayles & Dr. Earl Stoddard. See the Council staff report https://t.co/ULGJqUL1uf . https://t.co/EOOrxBfaHy

— Montgomery Council (@MoCoCouncilMD) March 31, 2020
There is currently not a surge in hospital admissions, said Stoddard. However, he expects it to come very soon. 
Most COVID-19 patients in the county have mild to moderate symptoms, said Gayles. 
Not much has changed in regard to testing capacity, he said. The county is working with the state to try to set up mobile testing sites in Montgomery County once they get more test kits. The county is continuing to work with local hospitals to postpone or cancel elective procedures and figure out which non-coronavirus patients can complete their recovery at other places like long-term care facilities, in order to free up space in hospitals for COVID-19 patients. Hospitals are still trying to reconfigure their buildings in order to maximize room for more beds. Also, the county is looking at other existing facilities to provide hospital services as well as building mobile hospitals if needed.  
There has not been any change in testing criteria with who gets tested, Gayles said. Test kits are still reserved for people who meet criteria like being from a vulnerable population like a nursing home and having symptoms that can't be explained by another diagnosis.
Montgomery County is talking with the state to possibly set up testing sites in the county, at places like vehicle emissions centers. The county has also been working to set up its own testing sites that are not reliant on the state. The problem, Gayles said, is that they're waiting on testing supplies. They want to create something that lasts, instead of a site that's a one-time event with a limited number of kits and then has to shut down. 
In regard to law enforcement, Stoddard said police may ask about what essential activity a person is doing during traffic stops, but officers will not conduct random stops to check for documentation for essential travel. There will not be any change to immigration enforcement. 
So far, all law enforcement in Montgomery County related to social distancing has been met with voluntary compliance, Stoddard said. If people are not aware of Hogan's order, they won't get hit with fines or arrested. People who consistently violate the order will see consequences.