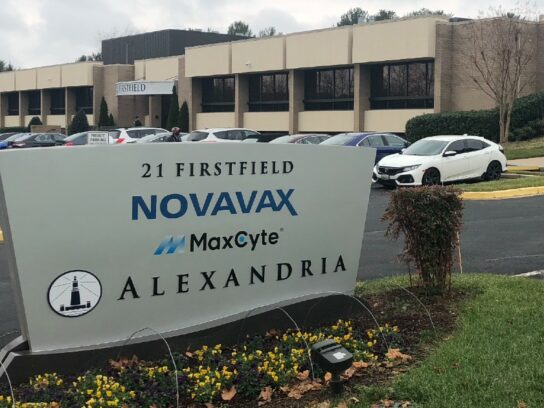 Novavax, a vaccine development company headquartered in Gaithersburg, announced a new president and CEO Monday.
John C. Jacobs will assume the roles later this month, according to a release from Novavax. He will succeed current President and CEO Stanley C. Erck, who will retire Jan. 23. Erck will serve as an advisor to the company for 15 months during the transition.
Jacobs served as President and CEO of Harmony Biosciences since 2018.
Erck has led Novavax since 2011. According to Novavax, he was responsible for bringing the company's COVID-19 vaccine to market globally.
Last July, the U.S. Food and Drug Administration (FDA) issued emergency use authorization for Novavax's COVID-19 vaccine for adults. It is the first protein-based coronavirus vaccine authorized in the U.S., according to the company. It is administered in two doses, three weeks apart.
In August, Montgomery County began offering Novavax's vaccine. The company announced it received authorization to offer a booster to adults in October.
"I look forward to working with the team and helping to build on the accomplishments and business foundation that have been established over the past several years," Jacobs said in the release. He said he was grateful to Erck for the foundation he built.
"I'm grateful for the tireless efforts of our employees, the support of the Board and the continued commitment from our key partners in our quest to protect the health of people everywhere," Erck said. "I look forward to supporting John and the company during the leadership transition."
"Stan led Novavax from a clinical development organization to a global commercial vaccines company during a worldwide pandemic," James F. Young, PhD, Chairman of Novavax's Board of Directors, said in the release. "This foundation puts Novavax in a strong position to execute on its long-term strategy, and we look forward to supporting Stan and John through the transition. 
Novavax Names John C. Jacobs as New President & CEO
* Current President & CEO Stan Erck to retire
* Novavax is well-positioned to execute on its strategy, with global authorizations for its COVID-19 vaccine and continued clinical pipeline developmenthttps://t.co/qTHQEIoUoj

— Novavax (@Novavax) January 9, 2023