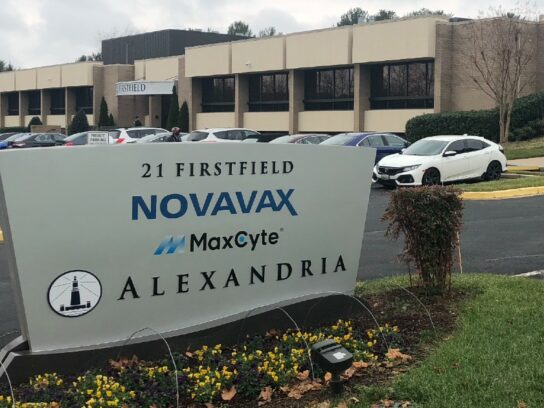 Gaithersburg-based Novavax announced it received authorization to offer a COVID-19 booster to adults.
The U.S. Food and Drug Administration (FDA) gave emergency use authorization (EUA) for Novavax to provide a first booster dose at least six months after finishing a primary vaccination series, per a release from Novavax on Wednesday.
The booster is authorized for adults 18 years and older "for whom an FDA-authorized mRNA bivalent COVID-19 booster vaccine is not accessible or clinically appropriate, and to individuals 18 years of age and older who elect to receive the Novavax COVID-19 Vaccine, Adjuvanted because they would otherwise not receive a booster dose of a COVID-19 vaccine."
In July, the FDA authorized the Novavax vaccine for adults. It is the first protein-based coronavirus vaccine authorized in the U.S., according to the company. It is administered in two doses, three weeks apart.
"The U.S. now has access to the Novavax COVID-19 Vaccine, Adjuvanted, the first protein-based option, as a booster," said Stanley Erck, Novavax President and CEO, in Wednesday's statement.
The Centers for Disease Control and Prevention (CDC) issued a memo allowing the monovalent booster instead of a bivalent Pfizer or Moderna booster.
"This action gives people ages 18 years and older the option to receive a Novavax monovalent booster instead of an updated (bivalent) Pfizer-BioNTech or Moderna booster if they have completed primary series vaccination but have not previously received a COVID-19 booster—and if they cannot or will not receive mRNA vaccines," per a CDC statement on Wednesday.
On Aug. 31, the FDA authorized bivalent vaccines for Moderna and Pfizer-BioNTech as a single booster dose at least two months after receiving primary or booster shots.
Today, we announced that our COVID-19 vaccine is now available as a first booster dose in the U.S. for adults. (🧵1/2) For locations visit https://t.co/UDNTjvyYqj. pic.twitter.com/uymIJYbKvJ

— Novavax (@Novavax) October 19, 2022