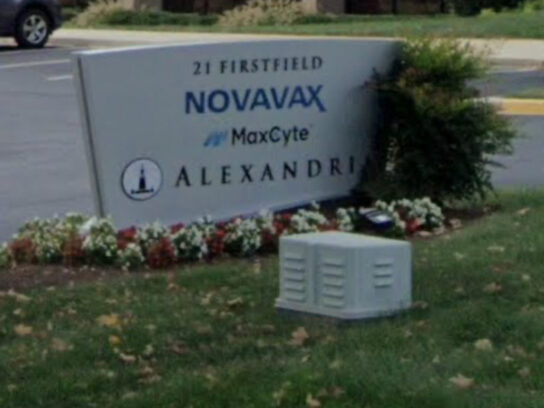 Novavax—a biotechnology company located in Gaithersburg—has been awarded $1.6 billion to accelerate the development of a potential COVID-19 vaccine.
The company announced Tuesday that it has been selected to participate in Operation Warp Speed. This federal government program will help cover testing, commercialization, and manufacturing of a potential COVID-19 vaccine in the United States. The program aims to start delivering millions of doses of a safe, effective vaccine for COVID-19 in 2021. According to a press release, this grant funding will allow Novavax to complete late-stage clinical development, including a pivotal Phase 3 clinical trial, establish large-scale manufacturing, and deliver 100 million doses of NVX‑CoV2373, Novavax' COVID-19 vaccine candidate, as early as late 2020.
"The pandemic has caused an unprecedented public health crisis, making it more important than ever that industry, government, and funding entities join forces to defeat the novel coronavirus together. We are honored to partner with Operation Warp Speed to move our vaccine candidate forward with extraordinary urgency in the quest to provide vital protection to our nation's population," said Stanley C. Erck, president and chief executive officer of Novavax. "We are grateful to the U.S. government for its confidence in our technology platform, and are working tirelessly to develop and produce a vaccine for this global health crisis."
Late-stage clinical studies will be done to determine the safety and efficacy of NVX-CoV2373, including a pivotal Phase 3 clinical trial with up to 30 thousand subjects beginning in the fall of 2020 Novavax, officials say.
"Adding Novavax' candidate to Operation Warp Speed's diverse portfolio of vaccines increases the odds that we will have a safe, effective vaccine as soon as the end of this year," said U.S. Health and Human Services Secretary Alex Azar. "Today's $1.6 billion investment supports the Novavax candidate, depending on success in clinical trials, all the way through to manufacturing 100 million doses for the American people."
A Phase 1/2 clinical trial of the vaccine began on 130 healthy participants 18 to 59 years of age in Australia back in May. Preliminary safety results are expected at the end of July, and the Phase 2 portion to assess immunity, safety, and COVID-19 disease reduction is expected to begin soon after, according to Novavax officials.
I want to congratulate @Novavax of Gaithersburg for receiving the largest Operation Warp Speed grant yet to accelerate development of a #COVID19 vaccine. Since day one, I've said that Maryland's biohealth institutions would lead the charge to develop treatments and vaccines. https://t.co/ZdqRxwEJnD

— Governor Larry Hogan (@GovLarryHogan) July 7, 2020
We are proud to announce a collaboration under #WarpSpeed with @HHS and @DeptofDefense to accelerate our candidate #COVID #vaccine development & scale up manufacturing. @BARDA @JPEOCBRND #savinglives #NVXCoV2373
Read our announcement for details https://t.co/SbmNOjxbIq pic.twitter.com/R2LiDW0jxp

— Novavax (@Novavax) July 7, 2020