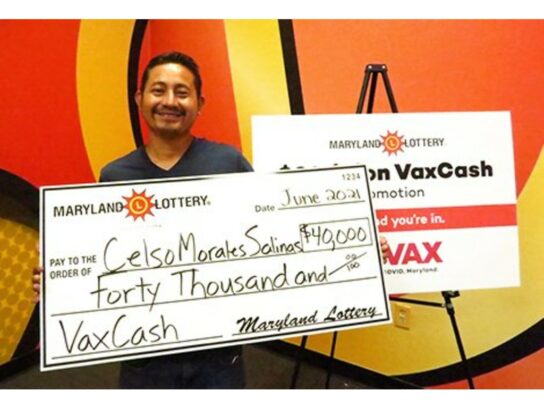 Celso Morales Salinas, un trabajador de la construcción de Annapolis, fue el ganador del 18 de junio en la promoción VaxCash de $2 millones, así lo anunció la oficina del Gobernador Larry Hogan.
Morales Salinas, residente del  del condado de Anne Arundel, es el último ganador en reclamar un premio de $40,000 en la promoción VaxCash, fue seleccionado en el sorteo del 18 de junio y se convirtió en elegible después de recibir una vacuna COVID-19 hace solo unas semanas.
Congratulations to Celso Morales Salinas of Annapolis, who claimed a $40,000 prize as the June 18 winner in the $2 Million VaxCash Promotion! Read more about Celso: https://t.co/w4FT4GU3jE pic.twitter.com/Kv6OoYp24b

— Maryland Lottery (@MDLottery) June 24, 2021
Según el comunicado, el hombre de 36 años trabaja para una empresa de construcción de la zona, vertiendo hormigón para patios, casas y aceras. Un proyecto finalizado recientemente fue el del Centro Médico Baltimore Washington de la Universidad de Maryland en Glen Burnie.
Morales Salinas dijo que fue el último miembro de su familia en recibir la vacuna COVID-19. Al principio reacio, se sintió más confiado con la idea de vacunarse después de hablar con sus compañeros de trabajo.
"No estaba seguro de los posibles efectos secundarios, pero hablar con mis compañeros de trabajo fue reconfortante", dijo Salinas.
Salinas dijo que el premio de $ 40,000 será útil tanto para él como para su familia.
La promoción VaxCash, anunciada por el gobernador Larry Hogan el 20 de mayo, es una colaboración de la Lotería de Maryland y el Departamento de Salud de Maryland, cuyo objetivo es incentivar a los residentes de Maryland que aún no han recibido sus vacunas COVID-19 y recompensar a los que sí lo han hecho.
Todos los residentes de Maryland de 18 años o más que hayan recibido una vacuna de COVID-19 en una instalación no federal en Maryland en cualquier momento ingresan automáticamente en los sorteos diarios que se llevan a cabo desde el 25 de mayo hasta el 4 de julio.
Cada día hasta el 3 de julio, un ganador recibirá un premio de $ 40,000 y la promoción culmina el 4 de julio, cuando un ganador recibirá un premio de $ 400,000, según el gobierno.
NOTAS PREVIAS
Hogan Anuncia un Incentivo de Lotería de $40,000 para las Personas Vacunadas
Hogan Anuncia un Incentivo de Lotería de $40,000 para las Personas Vacunadas