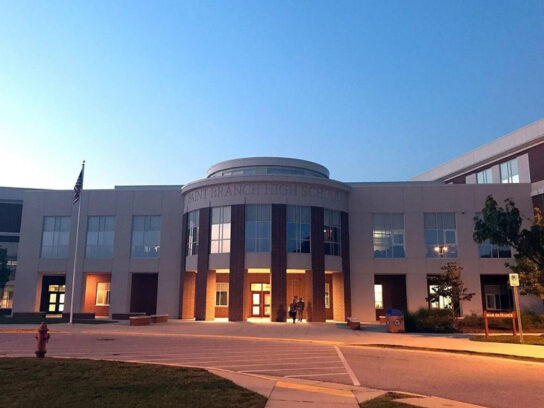 An outbreak of over a dozen coronavirus cases at Paint Branch High School in Burtonsville earlier this week suspended the boy's basketball season and the preschooler program. As of Dec. 8, seven additional cases were confirmed, according to the Maryland COVID-19 Dashboard.
The boys' JV and Varsity basketball teams postponed their upcoming games against Springbrook High School and future practices after 16 positive cases between students and one staff member were confirmed earlier this week. The tally grew after more students and an additional staff member tested positive, school officials confirmed Wednesday evening.
In response, the school is now also canceling wrestling matches and practices for the foreseeable future.
Five Montgomery County schools are listed on the Maryland Dashboard for confirmed, active COVID-19 cases. In addition to Paint Branch High School, Clarksburg Elementary, Quince Orchard High School, Saint Bernadette School, and Saint Raphael School are listed among the 185 schools on the Dashboard.
Paint Branch High School will be hosting a vaccination clinic this Saturday, from 10 a.m. to 6 p.m., where students can receive a first, second, or booster dose. Registration prior to the event is required, as walk-ins may not be able to be accommodated due to high demand. The clinic will only have adult doses available.
Students are also encouraged to participate in MCPS' "Say Yes to the Test" program, where students can receive a COVID-19 test every Wednesday morning at school. Testing is available at Paint Branch High School every Wednesday, 10 a.m. to 11:30 a.m., in room 1024.
Parents can find up to date information on the MCPS COVID-19 Dashboard.