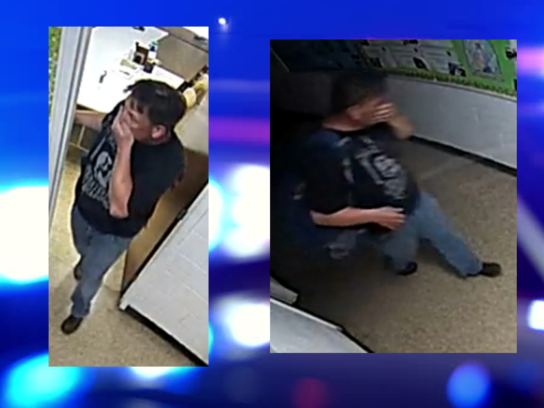 The Montgomery County Police Department (MCPD) continues to investigate a burglary at Georgia Avenue Baptist Church in Silver Spring.
On May 4, at approximately 8:15 a.m., police responded to the church located in the 12500 block of Georgia Avenue for the report of a commercial burglary.
"The investigation by detectives determined that on May 2, an unknown suspect forcibly entered the church, rummaged through church property and then fled the scene," according to MCPD.
Detectives reviewed surveillance video and describe the suspect as a white male with dark hair. He was last seen wearing a black t-shirt with a "P" over a skull design, blue jeans and black shoes. The suspect was also carrying a royal blue backpack or duffel bag.
Police ask anyone with information regarding the suspect or the burglary to contact the 4th District Investigative Section at 240-773-5530. A reward of up to $10,000 is being offered for information that leads to the arrest of the suspect. Callers can remain antonymous.