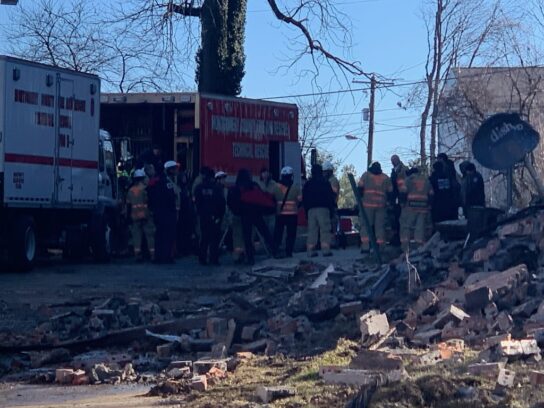 Following the explosion-caused fire at Friendly Garden Apartments in Silver Spring on Thursday, Montgomery County Fire Rescue Services (MCFRS) has reported all residents have been accounted for.
Fourteen individuals were injured, three of which remain in local hospitals for treatment. While MCFRS confirmed no visitors or additional people were in the building at the time of the explosion, 225 residents of the apartments have been displaced.
Friendly Garden Apartments #UPDATE:
➡️ALL residents of the 2405 building have been contacted & accounted for
➡️14 injured – 3 seriously injured still in local hospitals
➡️@mcfrs still confirming there were no visitors or additional people in the building at the time of explosion

— Councilmember Tom Hucker (@CmHucker) March 4, 2022
Recovery Efforts:
Montgomery County Public Schools sent out an email to families on March 3 expressing deep concern over the welfare of the families affected, and has committed to putting supports in place. MCPS announced housing, food, and mental health counseling will be made available in the coming days.
Aid workers have requested the assistance of bilingual Farsi speakers to communicate with now further displaced refugees affected by the fire. Translators are asked to go to the Coffield Community Center, or contact Curtis Luthye with the American Red Cross team, by emailing curtis.luthye@redcross.org, or by calling 443-695-8018.
Making Home Possible is collecting monetary donations online to help the survivors who fled with very little or none of their belongings. The families need transportation, clothing, supplies for children, and other essentials. All donated funds will go to the families affected by the fire. Over $220,000 has been raised by community members so far.
Community Notices:
The White Oak Community Recreation Center has been repurposed as an emergency shelter, and will remain so until further notice. All programs and activities scheduled through March 6 are cancelled or being relocated, except for the Club Adventure after school program, which will continue to meet as scheduled. Senior activities and meals for March 4 have been relocated to the Margaret Schweinhaut Senior Center. Basketball games for March 5 will take place at Marilyn Praiser CRC.
White Oak Rec. Center is serving as emergency shelter. Today's senior activities & meals will be moved to the Schweinhaut Senior Center. Tomorrow's basketball games moved to Praisner CRC. Club Adventure to meet as scheduled. More info. at https://t.co/9AlA1qzZzC pic.twitter.com/iLacHnaF9H

— MoCo Rec (@MoCoRec) March 4, 2022
A media briefing took place at 9 a.m. on March 4, and can be watched online. Fire Chief Goldstein said the cause of the explosion has not yet been discovered, but that MCFRS and MCPD are still investigating. One out of the six apartment buildings was totally destroyed, while another two were damaged. Three buildings remain habitable, but none have electricity.
Watch what residents and officials had to say on-site from the fire here. https://t.co/Y6hcYtVF9o

— MyMCMedia (@mymcmedia) March 4, 2022
More from the scene of the Friendly Garden Apartments this morning. We'll be going live on our Facebook page today to cover the briefing at 9am. pic.twitter.com/dPPSgSywNI

— MyMCMedia (@mymcmedia) March 4, 2022