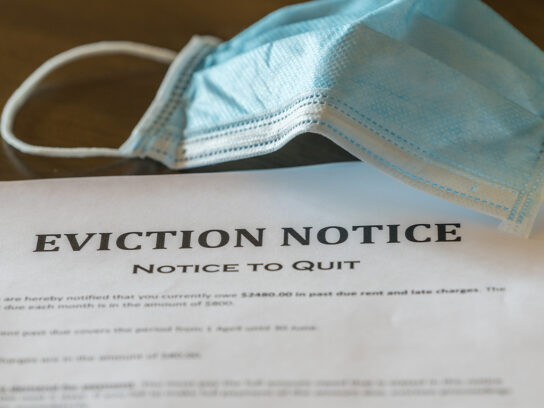 Following a new federal order halting residential evictions, community organization CASA, along with over 80 organizations, calls on state officials to reconvene for a special session.
The new order, issued by the Centers for Disease Control and Prevention, goes into effect Sept. 4 and goes through Dec. 31 of this year.
Under this order, landlords and residential property owners cannot evict renters for not paying the rent.
CASA is pleased with the announcement, executive director Gustavo Torres said in a statement. An increase in homelessness would only worsen the coronavirus pandemic, he said, and Black and Brown families would be especially hit.
Still, the order alone is not enough. CASA and other organizations are specifically calling on Maryland Speaker of the House of Delegates Adrienne A. Jones, State Senate president Bill Ferguson, and the Maryland General Assembly members to act on this crisis.
Additionally, Torres condemned federal leadership for the lack of monetary investment with the CDC's announcement.
"The Republican leadership controlling the Senate can't continue to fail working families and provide comprehensive relief," Torres said. "Families have nowhere else to turn."
While the order protects renters from being evicted for not paying the rent, they may still be evicted for other reasons, according to the order.
Renters must meet the following criteria to be covered by the order:
They must demonstrate that they have sought government assistance of rent.
They must have an individual income of $99,000 or less, or 198,000 jointly.
They must demonstrate that they will likely become homeless and have no other available housing options if evicted.
They must still make an effort to pay rent and other housing payments, as they are not released from any lease agreement or contracts with the landlord.
The block on evictions can prevent the spread of coronavirus, according to the CDC.
"Homelessness increases the likelihood of individuals moving into congregate settings, such as homeless shelters, which then puts individuals at higher risk to COVID-19," The order read. "Unsheltered homelessness also increases the risk that individuals will experience severe illness from COVID-19."
MyMCMedia's Andrea Sarralde spoke with Jenna DeFosse, a communications representative for the CASA organization, about the eviction moratorium.