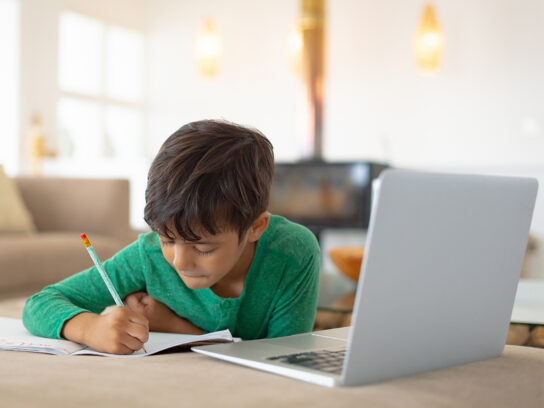 En un nuevo plan potencial presentado en una reunión de la Junta Escolar del condado, el jueves, los estudiantes de las Escuelas Públicas del Condado de Montgomery (MCPS) tendrían tres opciones para cumplir virtualmente su requisito de asistencia:
Los estudiantes pueden asistir a una clase en la plataforma Zoom en vivo
Completar un registro de asistencia en myMCPS Classroom durante una clase en vivo o grabada
Unirse a una discusión en línea en myMCPS Classroom durante una clase en vivo o grabada.
El plan aún no es definitivo y la junta escolar votará al respecto el 25 de agosto.
"Sabemos que registrar la asistencia en un entorno de aprendizaje virtual debe ser ágil y debe tener un aspecto diferente que cuando estamos en edificios físicos", dijo Sean McGee, director de aprendizaje, rendimiento y administración de la Oficina de Apoyo y Mejora Escolar de MCPS.
Los padres serán informados regularmente sobre la asistencia de sus hijos, dijo McGee en la reunión.
"Los sistemas escolares locales deben desarrollar un sistema para rastrear la asistencia cuando los estudiantes participan en el aprendizaje a distancia", requiere el plan.
.@mocoboe is meeting now to discuss and take action on the MCPS recovery of education plan. Watch live: https://t.co/XqgrfzKFTf pic.twitter.com/DhzZdZbSgF

— MCPS (@MCPS) August 6, 2020
En la primavera, cada escuela de MCPS creó un "equipo de bienestar" para monitorear y conectarse con los estudiantes que no se conectaban con el aprendizaje en línea. Los equipos estaban formados por maestros, consejeros y otro personal de la escuela. Estos equipos también estarán activos este otoño con el mismo propósito, dijo McGee.
Los equipos actúan como administradores de casos y crean planes para que los estudiantes se involucren mejor.
El 21 de julio, el superintendente de MCPS, el Dr. Jack Smith, anunció que el aprendizaje será virtual solo durante el primer semestre, que comienza el 31 de agosto y finaliza el 21 de enero de 2021.
"Creo que vale la pena que todos recordemos que, literalmente, hace seis meses hoy era el 6 de febrero y todos vivíamos en un mundo muy diferente", dijo Smith.
"Cuando piensas en la variedad de experiencias de las familias, literalmente se vuelve abrumador. Entonces, lo que tenemos que hacer es encontrar formas de apoyar a las familias de la manera que podamos y que funcionen para las familias a las que servimos y los niños que servimos ".
Aquí puede ver la reunión de la junta escolar: