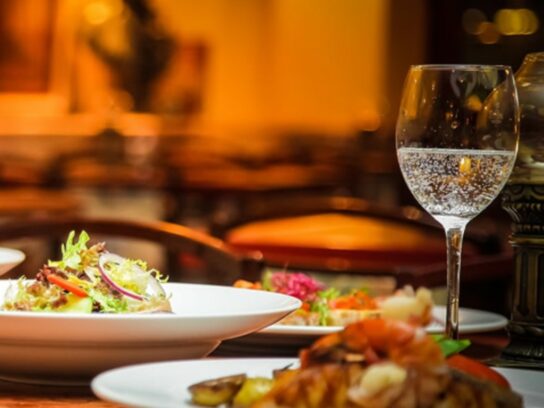 El condado de Montgomery reanudará el servicio al interior de los restaurantes al 25% de su capacidad, a partir del domingo 14 de febrero a las 7 a.m.
El concejo del condado votó 7-2 el martes para aprobar la orden ejecutiva del ejecutivo del condado Marc Elrich. Los clientes están limitados a un período de 90 minutos y el consumo de alcohol en el lugar debe detenerse a las 10 p.m. Según la orden de Elrich, "período de comida" es "el período de tiempo desde que el cliente está sentado hasta que el cliente sale del establecimiento después de consumir su comida y/o bebida".
Today the Council by a vote of 7-2 approved Executive Order 19-21AM that allows limited indoor restaurant dining effective Feb. 14 at 7 a.m. View the Executive Order: https://t.co/69tKIs6pxv . pic.twitter.com/1ETxp0oL2p

— Montgomery Council (@MoCoCouncilMD) February 9, 2021
El concejal Hans Riemer dijo que el cierre completo del comedor interior es una medida extrema para los niveles extremos de transmisión, por lo que lo apoyó durante la temporada navideña.
"Sin embargo, tenemos múltiples obligaciones. No podemos solo hacer las cosas que limitarán más la transmisión. Si esa fuera nuestra postura, haríamos cumplir una orden de permanecer en casa", dijo. Riemer agregó que cero comidas al interior excede lo necesario en función de los niveles de transmisión, que son significativamente más bajos que cuando alcanzaron su punto máximo. Recordó cuando el condado de Montgomery informó en diciembre y enero sobre los nuevos recuentos de casos de COVID-19 en los 600. El panel de datos del condado muestra la tendencia descendente del recuento de casos nuevos a partir de mediados de enero; el condado no ha informado de nuevos casos diarios superiores a 500 desde el 16 de enero. Riemer dijo que no cenará en el interior de un establecimiento y que no cree que sea seguro.
La concejal Nancy Navarro también dijo que no se siente cómoda cenando adentro. Pero dijo que es prudente reabrir el comedor interior al 25%, "entendiendo el impacto económico y el hecho de que somos los valores atípicos, y luego volver a visitarlo si es necesario".
Los concejales Will Jawando y Craig Rice votaron en contra de la orden.
"La idea de que estaríamos haciendo una orden ejecutiva para alentar a la gente a salir el Día de San Valentín, un día festivo en el que habrá mucha gente afuera, va en contra de la orientación de salud pública", dijo Jawando durante la reunión del concejo del martes. el concejal agregó que ha hablado con funcionarios de salud pública, incluidos los del condado, quienes dijeron que comer en el interior del establecimiento no es seguro.
Council votes (7-2) to pass Executive Order 19-21AM, COVID-19 Local Order–Amending & Restating Order dated Dec. 15, 2020, which reinstates limited indoor restaurant dining with a 90-minute dining period effective Feb. 14 at 7 a.m. See more: https://t.co/QUWC41zyJg . pic.twitter.com/tMsM1QcmcY

— Montgomery Council (@MoCoCouncilMD) February 9, 2021
Durante una reunión del concejo el 2 de febrero, el director de Manejo de Emergencias y Seguridad Nacional, Dr. Earl Stoddard, dijo que comer en el interior es una "actividad peligrosa", pero que las métricas habían mejorado hasta un punto en el que Elrich decidió "que el daño causado por el impacto económico puede estar excediendo el del daño desde una perspectiva de salud pública". Aún así, Stoddard dejó en claro la semana pasada que no cenaría en interiores bajo la nueva orden.