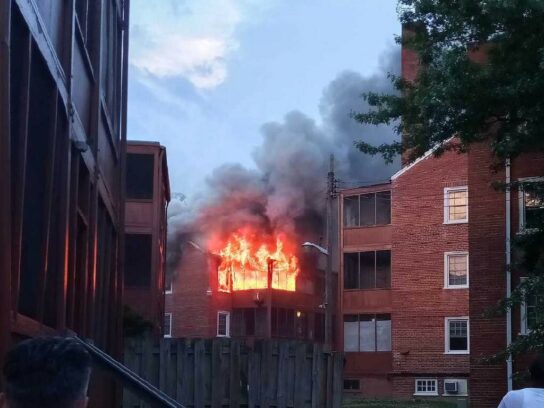 Several families were displaced, one firefighter was injured and one dog died in a fire at the Blair Park Gardens Apartments in Takoma Park, according to Montgomery County Fire and Rescue Service (MCFRS) Chief Spokesperson Pete Piringer.
MCFRS was dispatched to the apartments on Eastern Avenue around 7:30 p.m. Wednesday, Piringer said. Firefighters found heavy fire conditions upon arrival. Residents were able to exit uninjured and one firefighter suffered a knee injury, Piringer said.
Piringer said the fire's cause is accidental and due to a power strip failure or another malfunctioning electrical component that was plugged in. He said the area of origin is a second floor bedroom, where a fan and dehumidifier were plugged into a power strip.
"And this is why you shouldn't plug appliances into a power strip or extension cord," Piringer wrote on Twitter. "Extension cords & power strips are not typically equipped to handle the electrical current needed to power a [sic] various multiple appliances (dehumidifier, etc) & can overheat to be a fire hazard."
Damage is estimated to be about $700,000, Piringer said. Firefighters from MCFRS responded, as well as units from D.C. Fire and Emergency Medical Services (EMS) and Prince George's County Fire/EMS.
(5/27)Update – 7703 Eastern Av; Area of Origin, 2nd fl bedroom, Multiple items, fan & dehumidifier, plugged into power strip, near bed; Cause, accidental, failure/malfunction of power strip or other electrical component plugged in; Damage, total $700K; 1 dog died; 1 FF injured https://t.co/EHBd5ysZot pic.twitter.com/UWVedzTWXT

— Pete Piringer (@mcfrsPIO) May 27, 2021
— Pete Piringer (@mcfrsPIO) May 27, 2021