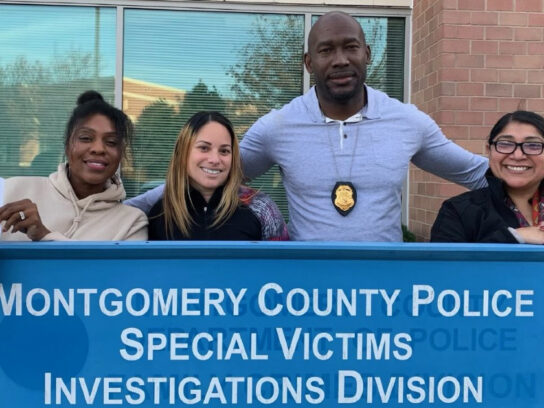 A 1-year-old girl from Silver Spring who had been missing since Nov. 28 was found unharmed in New York City after going viral on social media, according to Montgomery County Police Department Special Victims Investigations Division. And a social media organization, Black and Missing, Inc., aided in her recovery.
Toddler Ziona Amaya was reported missing along with her mother, Sandy Barrientos, on Sunday after last being seen leaving their residence on Plymouth Street. Barrientos was reportedly pushing Amaya in a red car-style stroller.
MCPD located Barrientos on Nov. 30, but Amaya remained missing. She was reportedly seen with her father, Cornelius Smith, around 6 p.m. on Nov. 28. Police asked the public for help in the search, noting they believed the pair to be traveling around the DMV area via public transit.
A passenger on the New York City subway recognized Amaya from a Facebook post by nonprofit organization Black and Missing, Inc., which had been shared nearly 2,000 times. The passenger took a picture of the toddler and called Montgomery County Police SVID via the number listed in the press release.
After speaking with a detective, the passenger forwarded the photo to MCPD, and it was determined that Amaya was the child in the photo. MCPD worked collaboratively with the New York Police Department Brooklyn and Bronx Child Abuse Squads and the Fugitive Enforcement Team to apprehend Smith and bring Amaya to safety. Amaya is in good health and condition.
Neighbor Jess Merlo said she saw the family often, and that each parent seemed to love and care for Amaya. However, Barrientos and Smith argued frequently, according to Merlo. Smith reportedly was unhappy with the environment Amaya was being raised in, and Merlo believes he was trying to protect his daughter.
Statistics from 2020 show that while African Americans make up only 13% of the U.S. population, 40% of missing persons are people of color, according to Black and Missing, Inc. The organization believes disproportionate media coverage between missing people of color and missing white people is largely due to the stigma of higher crime rates among people of color and desensitization.
The Hyattsville-based organization pushes missing persons reports for people of color on social media, knowing that spreading information this way can reach a far wider audience. "It's our job to bring them home," said Derrica Wilson, founder and CEO of Black and Missing, Inc.
A documentary featuring the nonprofit and the marginalization of missing persons of color recently premiered on HBO, and is available for streaming on HBO Max.