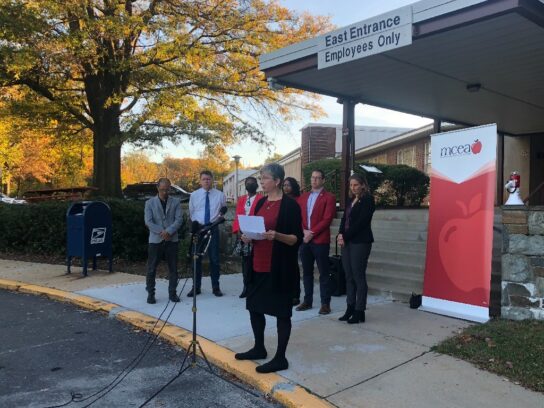 The Montgomery County Education Association (MCEA) says teachers are exhausted and overworked due to staffing shortages in Montgomery County Public Schools (MCPS).
The teachers' union wants MCPS to better support its teachers. MCEA President Jennifer Martin held a press conference Tuesday outside the Board of Education building in Rockville to voice concerns and list demands. like additional early release days to allow for more planning time. Local elected officials joined to support the union.
MCPS still needs 161 teachers — among other positions — to reach full staffing levels, MyMCM reported. Two weeks ago, hundreds of cars driven by MCEA members circled the Board of Education parking lot to rally for the hiring of additional teachers, bus drivers and other personnel.
On Tuesday, Martin said half of requests for substitute coverage on any given day go unanswered, meaning teachers must take on additional classes and miss planning time. Days can be long and overlap into weekends and educators do not have time for their families, she said.
"MCPS employees are demoralized, exhausted and desperate for relief," Martin said. She said she is concerned about the potential for a "great resignation" at the end of the year if things do not change.