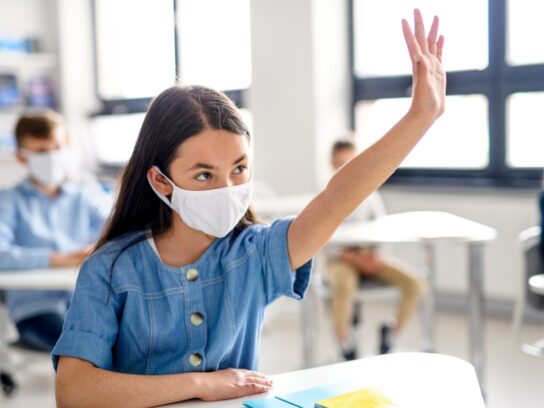 MCEA, the teachers union in Montgomery County, called the Montgomery County Public Schools' Board of Education's decision to bring students back into the classroom "reckless."
"MCEA is deeply troubled by the irresponsible reopening plan approved Tuesday by the MCPS Board of Education. The administration's presentation was riddled with misleading remarks leading to a host of unanswered questions. The plan fails to deliver on necessary safety measures for students and educators, and it siphons vital resources away from Black, Brown, and low-income students," MCEA stated in a news release on Thursday.
MCEA members held an emergency meeting Feb. 10 and are working on their next steps.
"This is just the latest offense in a bungled effort to return students to school buildings. Central office administration continues to provide everchanging guidelines and parameters, forcing local school staff to constantly pivot and waste precious time and energy revising school-specific plans," MCEA stated in a release that was sent to MyMCM by Kiwana Hall, communications director for the union.
MCPS' Board of Education members unanimously agreed Feb. 9 to return students to the classroom beginning with small groups of the most vulnerable students on March 1 and continuing through April 26 at the latest for seventh and 10th graders.
About 500 students in 68 schools are expected to return March 1.
The BOE's decision was based in part Gov. Larry Hogan's decision to urge school districts in Maryland to offer some form of classroom instruction by March 1. His urging came days after President Joe Biden released a plan aiming to reopen most K-8 schools during his first 100 days in office.
The BOE members agreed to open its buildings for grades kindergarten through third grade and career and technical education students as of March 15. Then, no later than April 6, students in grades four, five, six and twelve as well as pre-kindergarten will return to in-school instruction. No later than April 19, students in eighth, ninth and eleventh grades are expected to return. Finally, no later than April 26, the two remaining grades will be able to return.
According to the union, the plan needs more space, people and resources than MCPS currently has "to successfully implement this planned reopening." The union also noted that many educators still have not been vaccinated against COVID-19.
"Educators are anxious and angry, and rightfully so; there is a clear disconnect between what students need and what the System will provide," according to the release.
MCEA represents more than 14,000 classroom teachers, guidance counselors, speech pathologists, media specialists and other non-supervisory certified educators in the county, according to its website.
Recent Post
MCPS Will Return to In-School Learning with Phased-In Approach March 1
VP of Education Association: MCPS Teachers Need 'Consistent Plan' to Return to Classroom