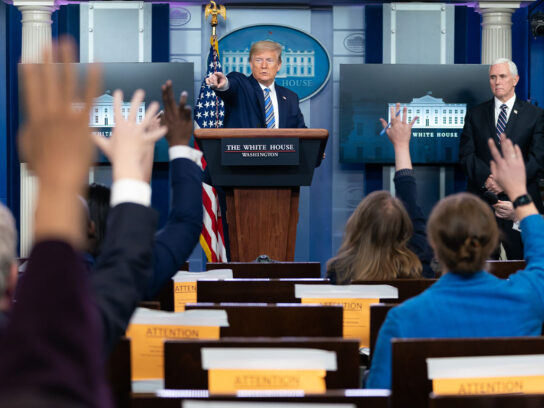 El presidente Donald Trump apuntó al gobernador Larry Hogan durante la rueda de prensa de coronavirus de la Casa Blanca, el lunes.
Después de criticar a la Casa Blanca el domingo en CNN, diciéndole a Jake Tapper que "no es exacto [para Trump] decir que hay muchas pruebas", Hogan anunció el lunes que Maryland ha obtenido 500,000 pruebas de coronavirus de Corea del Sur. Hogan negoció el trato con su esposa Yumi Hogan, un inmigrante coreano.
Cuando los periodistas le preguntaron si creía que Hogan necesitaba ir a Corea del Sur para obtener 500,000 pruebas de coronavirus, Trump dijo que el gobernador no entendía la capacidad de prueba de Maryland.
"No creo que necesitara ir a Corea del Sur, creo que necesitaba obtener un poco de conocimiento, hubiera sido útil", dijo Trump.
Durante la conferencia de prensa, el vicepresidente Mike Pence mostró una lista, que se distribuyó a los gobernadores, de las instalaciones donde, según la Casa Blanca, los estados pueden encontrar pruebas de coronavirus.
President Trump said he and VP Pence provided all 50 governors with a list of labs to find additional testing capacity.
He noted: "The governor from Maryland didn't really understand the list. He didn't really understand too much about what was going on…" pic.twitter.com/spQUMPRHl3

— FOX Baltimore (@FOXBaltimore) April 21, 2020
Se le preguntó a Hogan sobre los comentarios de Trump el lunes durante una entrevista con Wolf Blitzer en CNN. Hogan dijo que "más de la mitad" de las instalaciones identificadas en la lista de la Casa Blanca en Maryland "eran todas instalaciones federales", como los Institutos Nacionales de Salud.
"Eran centros de salud federales de los que hemos estado tratando desesperadamente de obtener ayuda o instalaciones militares. Ninguno de los cuales eran laboratorios o instalaciones estatales en los que pudiéramos hacer pruebas, pero no estoy seguro de a qué se refiere el presidente", Dijo Hogan.
"El presidente ha estado diciendo repetidamente que los estados deberían […] tomar la iniciativa en las pruebas, que el gobierno federal nos respaldaría pero que los gobernadores tenían que salir y hacerse sus propias pruebas y todos hemos estado fuera". Allí, los gobernadores, tratando de competir entre sí en todo el país y en todo el mundo para intentar obtener pruebas. Este es un gran avance para nosotros ", dijo Hogan.
El lunes por la noche, Hogan tuiteó la siguiente respuesta a Trump:
I'm grateful to President Trump for sending us a list of federal labs and generously offering Maryland use of them for #COVID19 testing. Accessing these federal labs will be critical for utilizing the 500,000 tests we have acquired from South Korea.

— Governor Larry Hogan (@GovLarryHogan) April 21, 2020