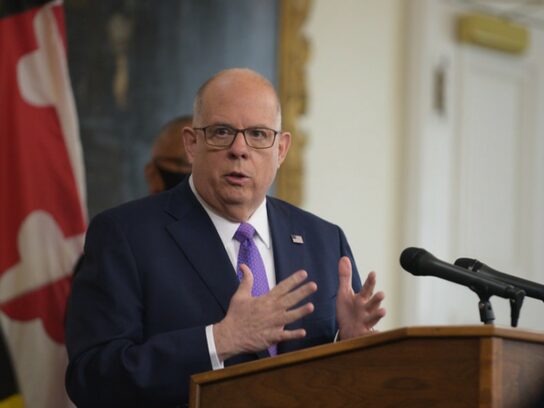 El gobernador Larry Hogan emitió un comunicado anunciando que se encontró en Maryland un caso de la variante B.1.351 de COVID-19, originalmente detectado en Sudáfrica. El Departamento de Salud de Maryland confirmó el caso en consulta con los Centros para el Control y Prevención de Enfermedades, CDC por sus siglas en inglés.
Dos casos de la variante se detectaron por primera vez en los Estados Unidos en Carolina del Sur el 28 de enero. El residente de Maryland que tiene la última cepa es un adulto que vive en el área de Baltimore, según la oficina del gobernador. El residente no ha viajado internacionalmente, lo que significa que probablemente se propagó a través de la transmisión comunitaria.
The B.1.351 variant of the SARS-CoV-2 virus first detected in South Africa has been identified in Maryland. We continue to closely track new variants, and ask Marylanders to limit transmission by wearing masks, avoiding gatherings, and washing your hands.https://t.co/gfYan8HHvt

— Governor Larry Hogan (@GovLarryHogan) January 30, 2021
Según la oficina del gobernador, "no se ha demostrado que la variante B.1.351 cause una enfermedad más grave o un mayor riesgo de muerte en comparación con otras variantes". Sin embargo, se cree que la nueva variante se transmite más fácilmente en comparación con otras cepas.
Se necesita más investigación para determinar la efectividad de las vacunas contra el coronavirus disponibles contra la variante sudafricana. La oficina del gobernador dice que se espera que las pruebas de coronavirus disponibles actualmente sean capaces de detectar esta variante.
There is no current evidence that the South African SARS-CoV-2 variant causes more severe #COVID19 disease. Like UK & Brazilian variants, preliminary data suggests this variant may spread more easily and quickly than other variants.

— CDC (@CDCgov) January 28, 2021
"Los funcionarios de salud estatales están monitoreando de cerca la variante B.1.351 del SARS-CoV-2 en el estado", dijo Hogan en un comunicado. "Recomendamos encarecidamente a los residentes de Maryland que tengan más cuidado para limitar el riesgo adicional de transmisión asociado con esta variante. Continúe aplicando las medidas estándar de salud y seguridad públicas, incluido el uso de mascarillas, el lavado regular de manos y el distanciamiento físico", agregó el gobernador.
Hogan anunció el 12 de enero que se detectaron en Maryland dos casos de la cepa B.1.1.7, conocida como la variante del Reino Unido. Desde entonces, los CDC han informado que se han encontrado siete casos de la cepa del Reino Unido en Maryland.
CDC's recommendations for slowing the spread of #COVID19—wearing masks, staying at least 6 feet apart from others, avoiding crowds, ventilating indoor spaces, and washing hands often—will also prevent the spread of these variants.

— CDC (@CDCgov) January 28, 2021