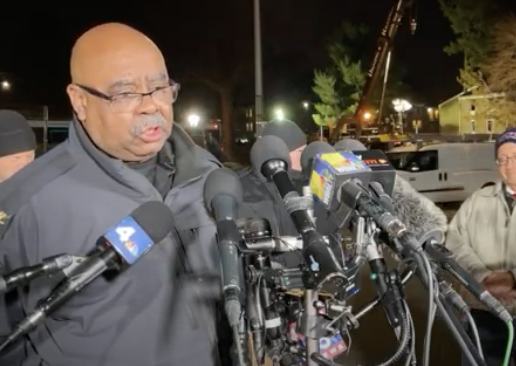 Montgomery County fire and EMS officials recovered one body Thursday from the site of a massive explosion and fire at a Gaithersburg condominium complex.
Officials have no information to suggest who the individual could be, said county police Chief Marcus Jones. Crews discovered the body while removing building debris from the area around unit 826 in the Potomac Oaks condominium complex – the location of Wednesday's explosion. A canine unit alerted crews to the body around 10:30 a.m., Jones said.
County officials are now pursuing Wednesday's explosion and subsequent fire as a criminal investigation, Jones said. Montgomery County police will investigate the incident as a "criminal, intentional act," Jones said.
The area near unit 826, where the body was found, was outlined as a high priority excavation area during a press briefing Wednesday morning – where Montgomery County Fire Chief Scott Goldstein announced that the safety of residents in one condominium unit remained unaccounted for.
The recovered body could not be identified as a person who lived in or was visiting the unaccounted for unit, Goldstein said. Crews must clear debris from the rest of the building Friday to determine whether any other casualties exist. Officials cannot identify people from the unaccounted for condo or the person who was found today until more excavation happens, Goldstein said.
The recovered body was transported to the state medical examiner's office in Baltimore Thursday. Officials hope to identify the deceased person by early Friday, Goldstein said.
Montgomery County fire and EMS, as well as county police, will continue to search through debris from the explosion Friday. They will also continue to search for other individuals inside of the structure, Goldstein said.
Officials will provide another public briefing on their searches through the debris mid to late Friday afternoon, Goldstein said.
Related:
Navarro Asks for Support, Donations for Victims of 'Horrible Tragedy'
Residents in One Apartment Unaccounted for After Gaithersburg Explosion, Fire
10 Injured in Explosion, Fire at Gaithersburg Apartment Building
10 Injured in Explosion, Fire at Gaithersburg Apartment Building