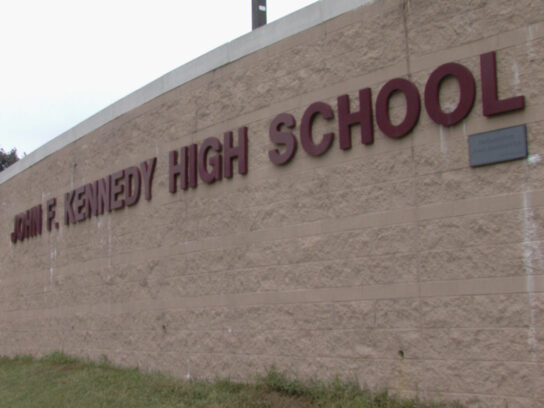 El Departamento de Policía del Condado de Montgomery arrestó a un joven estudiante de la Escuela Kennedy High School, en Wheaton, por amenazar a la comunidad estudiantil.
El jueves a las 2:10 p.m., la policía recibió una llamada al 911 de una persona desconocida que afirmó que había un tiroteo en Kennedy High. El capitán Tom Jordan le dijo a MyMCMedia que la policía y los funcionarios escolares investigaron la validez de la llamada y determinaron que la amenaza no era válida.
El jueves por la noche, los detectives del distrito de Wheaton determinaron que un estudiante menor de edad era responsable de hacer la llamada al 911 y fue arrestado y acusado de "hacer amenazas de violencia masiva, interrumpir las actividades escolares y falsas declaraciones a la policía".
Esta noticia llega más de una semana después de que la policía emitió un comunicado condenando una serie de amenazas que se estaban haciendo como bromas en las escuelas. El incidente también ocurrió una semana después de que la policía tuiteó sobre la investigación de informes de amenazas en la Preparatoria Kennedy y la determinación de que las amenazas no son viables.
Officers responded to John F. Kennedy High School at approximately 2:26 pm for the report of a possible threat. Officers investigated the situation and determined that there was no viable threat.

— Montgomery County Department of Police (@mcpnews) February 13, 2020
En un correo electrónico emitido el jueves a la comunidad escolar, el director de Kennedy, Joe Rubens, dijo que una vez que la escuela se enteró de que la policía estaba investigando el hecho, activaron el protocolo: "Shelter in Place". El protocolo se levantó después de que la policía chequeó el edificio para determinar que la escuela estaba a salvo.
El capitán Tom Jordan, portavoz de MCPD, dijo a MyMCMedia que la policía toma en serio estas amenazas de alto nivel y que las falsas amenazas hechas como bromas tienen un impacto significativo en la escuela. Una declaración de MCPD dijo que el departamento de policía trabajará con las escuelas públicas del condado de Montgomery para investigar y acusar a cualquiera que haga amenazas falsas a una escuela, independientemente de su intención.
"Da mucho miedo; da mucho miedo a los administradores y tiene que parar", dijo Jordan. "Piensa en todos estos niños y los niveles de ansiedad que están teniendo".
Rubens reiteró en el correo electrónico a la comunidad Kennedy que las amenazas de los estudiantes son tomadas en serio por el sistema escolar.
"Cualquier estudiante que haya realizado amenazas, en línea o en persona, se enfrentará a una disciplina alineada con el Código de Conducta del Estudiante y será remitido a la policía", dijo Rubens.
La policía continúa investigando este incidente e insta a cualquier persona con información a comunicarse con la Sección de Investigación del Distrito de Wheaton al 240-773-5530.