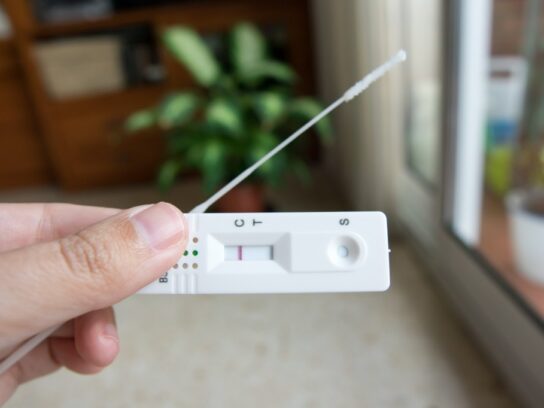 On Friday, the federal government will suspend a program to provide free at-home COVID-19 test kits directly to Americans due to lack of funding. However, orders for the test kits may still be placed. Each household can order up to 16 rapid anitgen tests through Sept. 2.
The federal government first made the at-home test kits available to residents in January in an effort to curb the spread of the virus.
Anyone interested in ordering the at-home tests have until Friday, when the program will be suspended, to place an order online through covid.gov/tests. Residents may call 1-800-232-0233 (TTY 1-888-720-7489) to get help if they have trouble placing an order through the website or need assistance in English, Spanish, and more than 150 other languages The 800 number is staffed 7 days a week from 8 a.m. to midnight. More information is available online at https://www.covid.gov/tests/faq.
County COVID-19 Tests
Also in January, Montgomery County started offering free at-home rapid COVID-19 tests and N95 masks at public libraries. In May, County Executive Marc Elrich announced more than one million rapid test kits had been distributed. And in March, the county began providing at-home PCR test kits at multiple locations.
The county webpage COVID-19 tests in Montgomery County provides details on both the rapid antigen and PCR tests, where to pick them up and the hours associated with the pickups.
Residents may also visit a county-run testing clinic for a COVID-19 test. The clinics are located at numerous locations throughout the county. Clinic schedules, locations, and hours may be found on the county webpage COVID-19 tests in Montgomery County.
At this time, the county plans to continue the testing programs, including the free at-home rapid tests according to Mary Anderson, spokesperson for the county's Department of Health and Human Services.