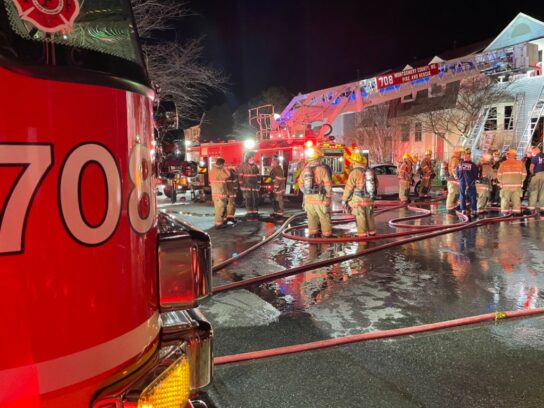 One man is in critical condition after a fire erupted in a Gaithersburg townhome late Wednesday night, according to officials.
Montgomery County Fire and Rescue responded to the fire along Bayridge Drive in Gaithersburg around 11:30 p.m.
One man who is currently in critical condition was rescued from the basement after being found on the floor. He was taken to the hospital after suffering from severe burns and smoke inhalation, according to officials. Another adult was injured in the fire but sustained minor injuries. Three other residents managed to escape unharmed.
Pete Piringer, chief spokesperson for Montgomery County Fire and Rescue, said the fire appeared to originate from the basement. Officials believe the fire started after a space heater next to a bed caused the sheets to ignite. The man who was later rescued from the basement had attempted to escape and left a door open, causing the fire to spread.
The blaze caused over $500,000 in damage to the townhouse.
Update – Bayridge Dr, Gburg, 3 resident escape TH fire, however, @mcfrs firefighters rescued 1 adult from basement , @MCFRS_EMIHS transported patient Pri1 w/ smoke inhalation & burns, patient is critical condition, 1 other adult received minor injuries; Smoke alarms activated https://t.co/icLfOCeT5o pic.twitter.com/13D8DxdZ7b

— Pete Piringer (@mcfrsPIO) December 3, 2020