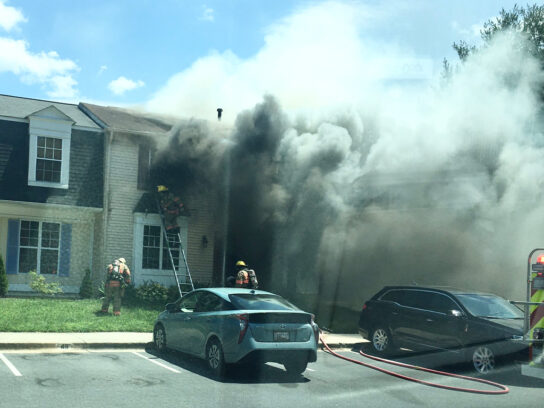 Update (7:45 p.m.): Pete Piringer tweeted Tuesday that an adult male has been arrested in connection to the White Oak townhouse fire. Piringer told MyMCMedia the man was related to the family that lived in the townhouse.
The man faces charges for first degree arson, reckless endangerment, first degree malicious burning, and other charges are pending.
Piringer tweeted that the damages to the townhouse costs around $250,000 ($200,000 for the building and $50,000 for the contents).
Update – 1700blk Featherwood St, White Oak, MOR TH, 1 resident RESCUED & 1 other Adult male ARRESTED (Arson 1st Degree, Reckless Endangerment, Malicious Burning 1st Degree, other charges pending; Origin & Cause: Incendiary (arson); Damages: >$250K, incl $200k bldg, $50k Contents https://t.co/GVbuzTFBmf

— Pete Piringer (@mcfrsPIO) June 30, 2020
---
Original Post (6 p.m.): A male suspect has been taken into custody for questioning about possibly committing arson to a townhouse in the White Oak area Tuesday afternoon, according to Pete Piringer, spokesperson for Montgomery County Fire and Rescue Services.
Piringer says at 1:45 p.m., about 100 firefighters arrived at the 1700 block of Featherwood Street (near Old Columbia Pike), to "heavy fire conditions" after receiving reports about a townhouse that was intentionally set ablaze.
Firefighters also received reports that multiple people were trapped in the house, but at the scene, Piringer said they only found a one person – a woman – trapped inside. Firefighters were able to free the woman, Piringer said.
Firefighters did not immediately find the person suspected of setting the fire to the house, Piringer said. However, Piringer's said, "Montgomery County patrol officers were able to find that person a couple blocks from the scene."
Update – Featherwood St, White Oak, MOR TH, 1 person rescued (no injury), preliminary cause intentionally set (arson), person of interest in custody & being questioned, 2nd Alarm ~ 100 FFs on scene, several families may be displaced https://t.co/5Gi72FDQDe pic.twitter.com/DlScRjuaIa

— Pete Piringer (@mcfrsPIO) June 30, 2020
The suspect, a family member of the household, has been taken into custody and is being questioned by Montgomery County fire investigators, Piringer said.
Piringer said firefighters extinguished the fire in about 15 minutes and were able to account for everyone in the household. The family will be displaced and Piringer expects families that live in the surrounding townhouses will also be displaced. However, the cost of damages is still not clear.
https://www.instagram.com/p/CCEvcI0hYto/