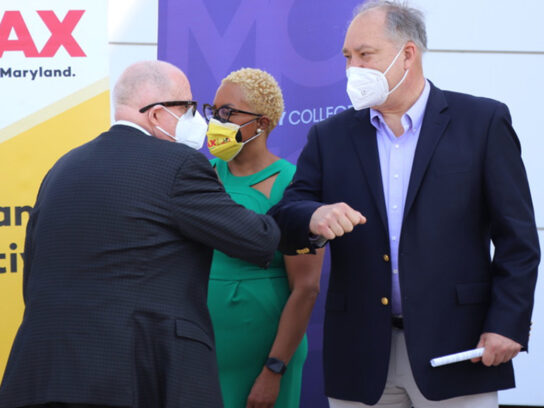 Gov. Larry Hogan and County Executive Marc Elrich were united after touring the mass vaccination site at Montgomery College in Germantown on Wednesday.
The site in Germantown has been open since March 31, but it has been operating using only COVID-19 vaccines allocated to the Montgomery County Department of Health and Human Services. Starting Thursday, the site will officially become a state-run mass vaccination site, and will therefore be capable of inoculating more Marylanders every day.
Several local leaders and health officials expressed excitement that Montgomery County finally has a mass vaccination site, after weeks of leaders pleading for one.
"This is a real team effort here, it's one party, one team, team Maryland, pulling together here to get this site up and running," U.S. Rep. David Trone (D-Md. 6) said after touring the facility. "We got to remember, we've lost 1,400 people here in Montgomery County."
Elrich, Hogan Agree Over Importance of Getting Vaccines in Arms
On several occasions over the course of the pandemic, Hogan and Elrich have been at odds with one another's handling of the public health crisis. As COVID-19 cases are rising in the state of Maryland, Elrich has been critical of the governor for lifting capacity limits on establishments effective since March 12. Hogan said on April 1 that he doesn't believe the increase in cases had anything to do with reopenings, which Elrich tweeted in response "goes against all the science we have been following."
"There are differences of opinions on some things but some things but there are things we are totally united on, which is people need to get vaccinated," Elrich said on Wednesday.
Hogan and Elrich were asked about this disagreement during a press conference following the tour at the mass vaccination site at Montgomery College.
https://www.instagram.com/p/CNYItfrLyjV/
Hogan acknowledged that the two leaders don't agree on everything, adding, "the good news is we all agree on how important it is to fight this […] silent enemy and that we get everyone vaccinated."
The governor touted Maryland's health metrics as some of the strongest in the country. "I know some people think that we're moving too slow, some people think that we're moving too fast, but about 80% of the people in Maryland happen to agree that we're doing it about the right way."
As a fan of amusing awkward moments, here's a funny exchange between @GovLarryHogan and @Marc_Elrich at the mass vaccination site in Germantown.

Hogan experiences his first handshake in quite some time. 😷 pic.twitter.com/7r6Q9ZJqSb

— Deirdre Byrne (@DeirdreByrneMCM) April 7, 2021
Elrich maintained that he has a positive working relationship with the governor and has spoken to state health officials about his concerns.
"Each of us will probably continue to think what we think," Elrich said. "We are all supporting getting everybody in this jurisdiction in this state vaccinated as quickly as possible."
Related Posts:
Mass Vaccination Site Opens at Montgomery College Germantown Campus
'I'm Really Happy About This': Elrich Visits County's Mass Vaccination Site
'Goes Against All The Science': Elrich Criticizes Hogan's Response to Rising COVID-19 Metrics