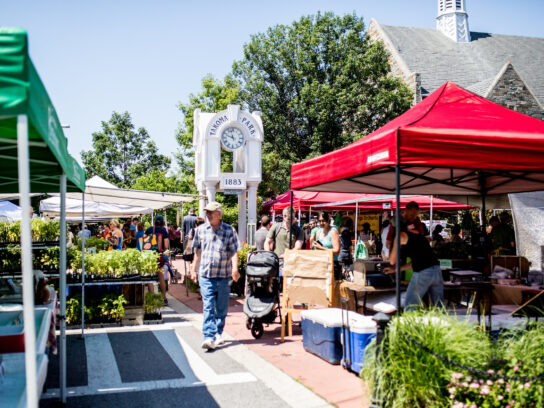 Welcome to our Weekend Roundup of events in Montgomery County. Here are nine things to do this weekend, July 15 – 17.
Friday, July 15
Freaky Friday Hike at Seneca Creek State Park: Leave the work week and stress behind on a beautiful 1.5-2.5 mile round trip hike with volunteer ranger Bonnie. Make sure to bring water and footwear for muddy trails as you observe odd plants, learn about interesting insects, and listen to bird songs. The hike starts at 6 p.m. and is free to the public.
Post-It Art Downtown Silver Spring: Take a stroll in Downtown Silver Spring and experience the Post-It Art exhibit. Using tens of thousands of Post-It notes, Pipkin Creative and muralist Patrick Owens have created several large-scale, multi-story installations in windows. Check to see your favorite Downtown Silver Spring stores and restaurants display their own Post-It art as well as the massive installations!
Temporary art installations made entirely of @Postit notes are showing up in building windows around Silver Spring in a project spearheaded by @DTSilverSpring, in partnership with @pipkincreates and muralist Patrick Owens. https://t.co/YbUMH7uq1R pic.twitter.com/wIreQ5lWtd

— Source of the Spring (@SourcetheSpring) June 22, 2022
Parks Playhouse: Comedy Show: Experience the "Comedy As A Second Language" interactive comedy show at the Long Branch-Arliss Neighborhood Park. The event features stand-up comedy by immigrant and first-generation performers. For everyone 17 and older, the show is sure to delight as the comics share heartfelt stories about their lives, families, and their relationship with their American home. The free event runs from 6 p.m. to 9 p.m. For more information, click here.
Saturday, July 16
Tastemakers: Self-Guided Craft Beverage Tour: Get your IDs ready as you stop at local brewers, fermenters, distillers, and roasters on this self-guided craft beverage tour. Featuring loads of  Montgomery County's finest drink suppliers, the Tastemakers Trail is designed to be your ultimate resource for the perfect beverage-centric weekend. For more information about the featured venues, the trail map, or more, click here.
Laugh Riot at Rock Bottom – Live Standup Comedy Show: Make sure to bring $20 and your sense of humor as the Laugh Riot at Rock Bottom Bethesda is back. The 17 or older show opens at 7:15 p.m. for drinks and goes from 8 p.m. to 9:30 p.m. but you better get there fast as the comedy showroom seating is first come – first seated until they sell out.
Calleva Pizza Night at the Farm: Hope you're hungry as Calleva is hosting its weekly Pizza Night at the Farm from 5 p.m. to 7 p.m. Have delicious pizza, local beers and wines, farm-fresh salads, ice cream, and an opportunity to wander the farm. Make sure to make your reservation beforehand to ensure your family gets to eat in the great outdoors.
Sunday, July 17
Take Me Fishing at Seneca Creek State Park: Grab your fishing gear and set your alarm because Seneca Creek State Park is hosting the Take Me Fishing course from 8:30 a.m. until 10 a.m. Join an expert angler for a beginner's course in fishing and if you don't have any equipment, it's okay since rods, reels, and bait will be supplied by the park. The whole family can get in on the fishing fun. Non-tidal licenses are required for ages 16+.
Walk This Way Art Experience: Reconnect with your inner child as you explore artist Inga Adda's newest exhibit along Kingsley Trail. The Walk This Way installation is composed of several new signs meant to inspire hikers to stop and be one with nature as it ignites your imagination and encourages you to think outside the box. The Kingsley Trail is just under one mile, ends at the lawn of the historic Kingsley Schoolhouse, and should be an easy, relaxing walk to help you take a break from your week.
A new interactive art installation by Rockville artist Inga Adda invites you to "Walk This Way." Explore the artwork along the Kingsley Trail at Little Bennett Regional Park.

Learn more: https://t.co/UBltV2KiGH. pic.twitter.com/sOYT7cX7Wk

— Montgomery Parks (@MontgomeryParks) December 6, 2021
Takoma Park Farmers Market: If you're looking for fresh and local food and produce, look no further than the weekly Takoma Park Farmers Market. Operating from 10 a.m. to 2 p.m., the market is host to the freshest seasonal produce, breads, pasture-raised meats, artisan cheeses, eggs, baked goods, and more from farms within 125 miles of Takoma Park. Located behind the shops on Laurel Avenue, you are sure to see some delicious food and meet some nice members of the community.