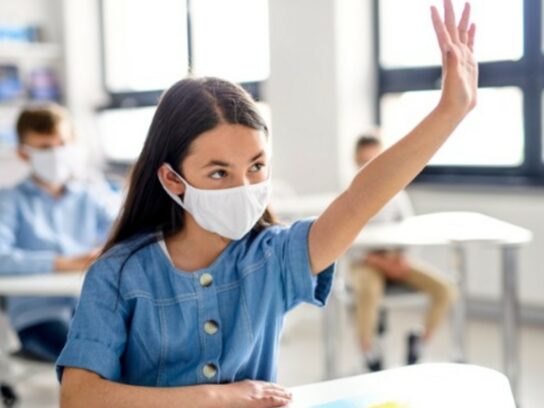 The Maryland Board of Education voted to put forward a plan that will determine when mask mandates can be lifted in local school districts at a virtual meeting on Wednesday.
"We're never going to get back to normal if we don't keep our schools open," said Mohammed Choudhury, state superintendent of schools. Choudhury added with vaccines now accessible to children, "it is time to think about off-ramps."
The Board voted in favor of a mask mandate inside public school buildings for all staff, students, teachers, and visitors in August, and approved the policy Sept. 14. The current mask mandate is set to expire on Feb. 25, 2022, according to Board president Clarence Crawford.
"We can't mask our children forever," Choudhury said. "However, we do know masking plays a role in keeping our community safe." Only one school in Carroll County has had to cancel in-person learning since the indoor mask policy was implemented.
There is no change to the mask mandate at this time, but the Board intends to develop a plan that includes measures on when to ease out of the policy, as opposed to simply letting the mandate expire.
While the Board did not specify what metrics would be used to determine when mask mandates could be lifted, researcher at John Hopkins University Holly Wilcox made some suggestions. Wilcox proposed determining factors could be based on COVID transmission rates, or vaccination rates.
In Montgomery County, the Council passed an amendment in November for the county's indoor mask policy to reflect transmission rates. The Council also motioned to develop a plan for lifting the mask mandate altogether, suggesting the policy change when the county reaches an 85% vaccination rate.
As of Dec 2., Montgomery County's vaccination rate has reached 80.1%, according to County Executive Marc Elrich.
The County Council's mask policy does not currently affect Montgomery County Public Schools, which are ruled by the Maryland Board of Education.
"At the end of the day, it's very important to keep our schools open and make sure our schools stay open," Choudhury said.
The Board reconvenes Dec. 7 to present a new masking policy to board members. The members will vote on the new emergency resolution following the introduction.