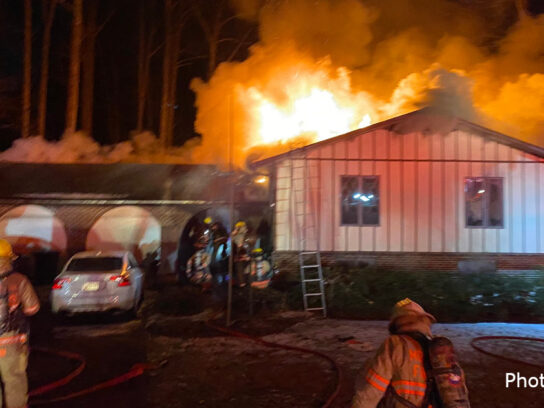 El martes en horas de la mañana, más de 80 bomberos respondieron a un incendio en una casa en el área de Gaithersburg, según el portavoz principal del Servicio de Bomberos y Rescate del Condado de Montgomery (MCFRS), Pete Piringer.
El incendio ocurrió alrededor de las 4 a.m. en Sabbath Court, cerca de Goshen Road. No hubo heridos. Los dos ocupantes lograron salir sanos y salvos. Faltan tres gatos, según Piringer.
Los investigadores creen que el fuego comenzó fuera de la casa en el área del patio trasero. Piringer dijo que los daños se estiman entre $600,000 y $700,000.
ICYMI (~4a) 20700blk Sabbath Ct, @MontgomeryCoMD 2-Alarm house fire, fire is out, 1-family displaced, no injuries, three cats missing NOTE: @mcfrs Will return to the neighborhood this afternoon (~430p) to conduct 'After/the-Fire' safety initiative… https://t.co/izRhA6vuf5 pic.twitter.com/R9y1CgUinz

— Pete Piringer (@mcfrsPIO) February 1, 2022
(4a) 20,700 Sabbath Court of Lockhaven Drive, near Goshen Road, house fire, heavy fire upon arrival, all occupants got out pic.twitter.com/qiABtcP5nR

— Pete Piringer (@mcfrsPIO) February 1, 2022
Los bomberos regresarán al barrio el martes alrededor de las 4:30 p.m. como parte del programa de iniciativa de seguridad del condado. Proporcionarán a los vecinos información sobre seguridad contra incendios y responderán preguntas.