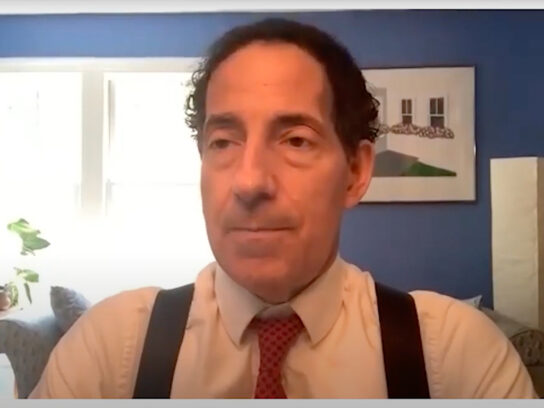 "Put your mask on," Rep. Jamie Raskin (D-Md.) was heard calling at Rep. Jim Jordan (R-Ohio), who was speaking out of turn during a House Judiciary Committee hearing Wednesday. "Put your mask on," he repeated.
The hearing featured the CEOs of big tech companies like Google, Facebook, Apple, and Amazon. It also came the same day Rep. Louie Gohmert (R-TX) announced in a social media video that he tested positive for the coronavirus. According to Raskin, Gohmert and Jordan are a part of a partisan "anti-mask" culture on Capitol Hill. The day before Gohmert's announced his diagnosis, he was at the U.S. Capitol questioning Attorney General William Barr at a House Judiciary Committee hearing.
In a statement from July 14, CDC Director Dr. Robert Redfield said, "Cloth face coverings are one of the most powerful weapons we have to slow and stop the spread of the virus – particularly when used universally within a community setting. All Americans have a responsibility to protect themselves, their families, and their communities."
According to Raskin, since the start of the pandemic, he's had his staffers working from home, but many on working at the U.S. Capitol do not feel safe, including—Politico reports—Gohmert's staffers who were encouraged not to wear masks. Because Raskin lives so close to the Capitol, he goes into work almost every day, sometimes to fill in for U.S. House Speaker Nancy Pelosi as Speaker pro tempore when she's absent.
"I've been living with this kind of irresponsibility for months," Raskin said. "They're subjecting me, and my staff, and my family to this."
.@SpeakerPelosi: "Members and staff will be required to wear masks at all times in the Hall of the House except that members may remove their masks temporarily when recognized." pic.twitter.com/EHoVg5r7E6

— CSPAN (@cspan) July 29, 2020
After the news of Gohmert's coronavirus diagnosis, Pelosi (D-Calif.) announced a broad mandate requiring masks to be worn at all times in the House chamber that officially went into effect Thursday. Anyone who fails to wear a mask—which will be provided to those who forget their masks—will not be allowed inside the House Chamber.
"The chair would also like to remind members that the speaker has the authority to direct the sergeant at arms to remove a member from the floor as a matter of decorum," Pelosi said when making the announcement Wednesday. "To reiterate, the chair views the failure to wear a mask as a serious breach of decorum."
MyMCMedia's Full Interview with Jamie Raskin
Here's MyMCMedia's full interview with Raskin. Raskin talks about the exchange with Jordan, the House chamber mask mandate, and the legacy of civil rights icon Rep. John Lewis.