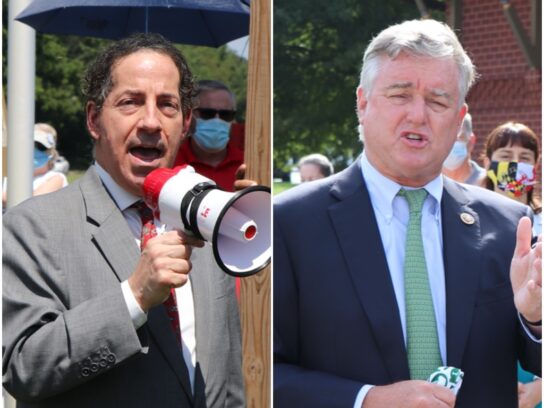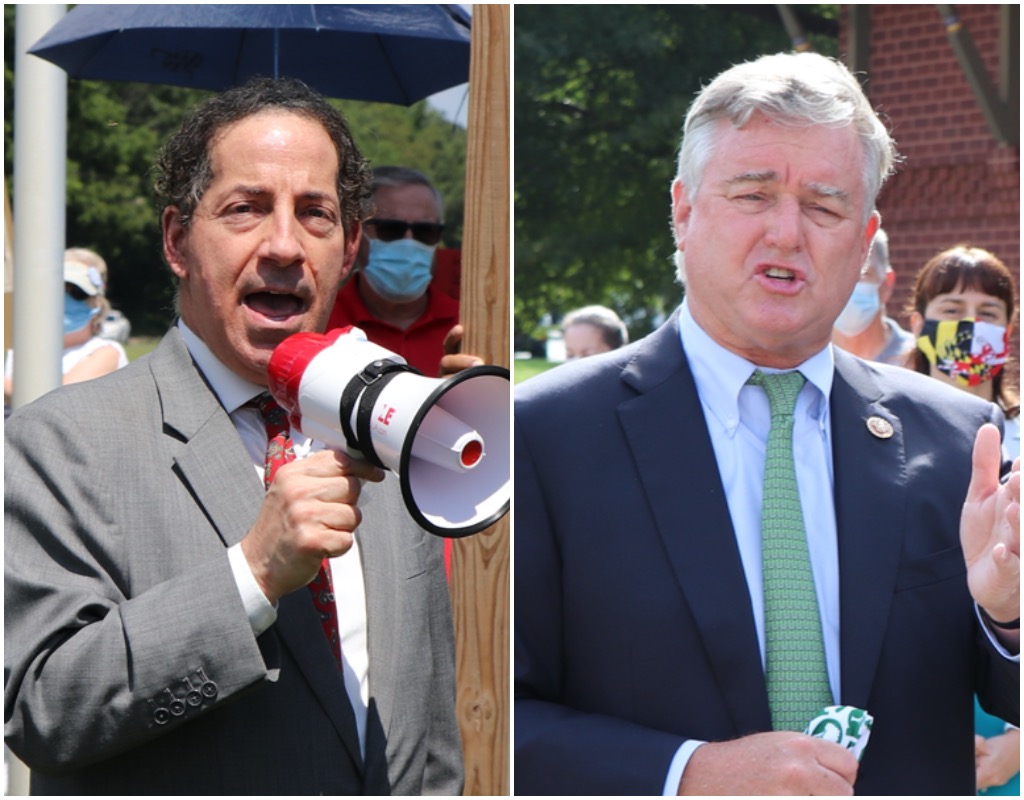 U.S. Reps. Jamie Raskin (D-Md. 8) and David Trone (D-Md. 6) have written a letter to Gov. Larry Hogan and Maryland's Acting Secretary of Health Dennis Schrader urging that the state open a mass vaccination site in Montgomery County.
"[D]espite Montgomery suffering the worst casualty rate in Maryland and despite having the second-highest number of cases in the state, it still has no mass vaccination site for its population of more than one million people," Raskin and Trone write.
With over a million people, MoCo is #1 in population but alarmingly #15 among all MD counties in percentage of population vaccinated. If the state can't support a mass vaccine site in MoCo, we urge an increased vaccine supply to @MoCoDHHS so it can operate its own vaccine site.

— Rep. Jamie Raskin (@RepRaskin) March 4, 2021
Raskin and Trone make the case in the letter that as six statewide mass vaccination sites are operating across Maryland, Hogan's administration is not fully promoting their "goal of ensuring equitable vaccine distribution to vulnerable communities" by not having a mass vaccination site in Montgomery County. The two representatives note that Montgomery County is "the most populous county" in Maryland, which has "a majority-minority population and is the most diverse County in Our state."
The representatives write that Montgomery County's diverse "demographics present complex challenges for the local health department in vaccine distribution which could be successfully addressed with a local mass vaccination site." They say that it's "wishful thinking" to believe Montgomery County's "lower-income, working-class, immigrant, and senior residents" can take time out of work or make travel arrangements to receive the COVID-19 vaccine at the "distant sites."
As the state prepares to improve its equity framework in the coming weeks, we ask that the Hogan Administration increase vaccine distribution efforts to better serve the diverse & vulnerable communities in Montgomery County.

— Rep. Jamie Raskin (@RepRaskin) March 4, 2021
Raskin and Trone wrote, "If the Maryland Department of Health is unable to support another state-run mass vaccination site, we urge you yo sufficiently increase the number of vaccines provided to the County to enable the Montgomery County Department of Health and Human Services to operate its own mass vaccination site."
Some members of the Montgomery County Council have expressed gratitude on Twitter to Raskin and Trone for their support:
Thank you @RepRaskin and @RepDavidTrone for your support in advocating for a mass vax site in MoCo. Having a mass vax site in MD's most populous jurisdiction is essential to an equitable statewide rollout. https://t.co/knPKGB0utK

— Councilmember Tom Hucker (@CmHucker) March 4, 2021
The largest and most diverse county in the state needs a mass vaccination site. It is the fair and equitable way to keep our residents healthy and safe.

Thank you @RepRaskin and @RepDavidTrone!

— Evan Glass (@EvanMGlass) March 4, 2021

MyMCM reached out to Hogan's team for comment but did not receive a response at the time of this story's publication. At a press briefing on Tuesday, Hogan said state health officials are in talks with counties that have expressed interest in partnering with the state on additional mass vaccination sites, but there are no set plans in the works.
"Expanding the hours, the capacity, volume, and the number of mass vaccination sites is all contingent on future increases in supply from the federal government," Hogan said Tuesday.
Related Posts:
Elrich: 'The County Has Multiple Options For A Mass Vaccination Site'
Leaders Urge State for Mass Vaccination Site in Montgomery County
Hogan: Former CDC Director Redfield to Serve as Senior Health Adviser