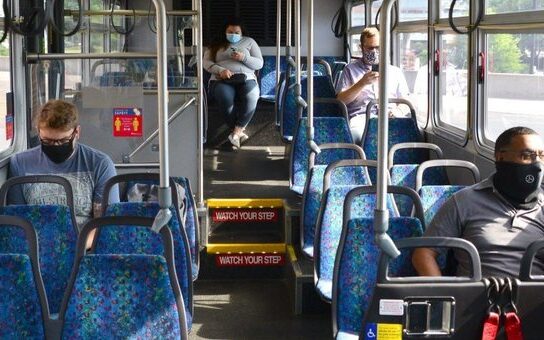 El miércoles, la Administración de Seguridad del Transporte (TSA, por sus siglas en inglés) amplió el requisito del uso de mascarillas en el transporte público hasta el 3 de mayo. Este requisito incluye el uso de mascarillas en los aeropuertos y cuando se viaja en aviones comerciales, autobuses y sistemas de autobuses y trenes.
El requisito inicial, anunciado por la TSA el 31 de enero de 2021, se extendió anteriormente hasta el 18 de abril.
En el condado de Montgomery, el requisito cubre los autobuses Ride On, Ride On extRa, Flex, Flash, Metrobus, Metrorail, taxis y servicios de automóviles a pedido. Los autobuses del condado tienen un suministro de cubiertas faciales para los pasajeros que no pueden proporcionar las suyas propias. Los niños menores de 2 años y las personas con ciertas discapacidades no están obligados a usar mascarilla.
😷ICYMI😷@TSA has extend the Security Directives and Emergency Amendment requiring mask use on public transportation and transportation hubs for 15 additional days – through May 3, 2022.

Press Release▶️https://t.co/l05NpVX5rc#MDCommuters @311MC311 @GburgMD @Rockville411 pic.twitter.com/oydSch4gG3

— MCDOT (@MCDOTNow) April 14, 2022
Todos los autobuses operados por el condado siguen siendo gratuitos para todos los pasajeros hasta al menos el 2 de julio. Las tarifas se suspendieron durante el inicio de la pandemia.
El condado continuará limpiando los interiores de los autobuses con un desinfectante viral de grado hospitalario. Los sistemas de ventilación y filtro de autobuses se tratan con un desinfectante.