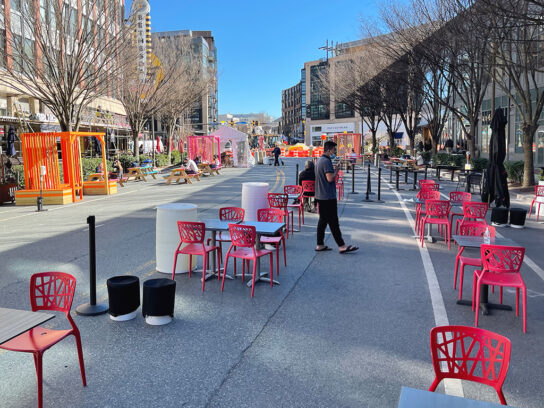 Esta semana, el país cumplió un año desde que la vida tal como la conocíamos cambió con el COVID-19, que se extendió por todo el mundo y comenzó a afectar al condado de Montgomery. Hasta la fecha, ha habido más de 64,000 casos confirmados solo en el condado.
Los primeros tres casos de COVID-19 en Maryland se confirmaron en el condado de Montgomery el 5 de marzo de 2020. Las tres personas contrajeron la enfermedad durante un viaje internacional.
En una de las primeras conferencias de prensa sobre el coronavirus, que luego se volverían demasiado familiares, los líderes locales, incluido el ejecutivo del condado de Montgomery, Marc Elrich, y el oficial de salud del condado, Dr. Travis Gayles, abordaron el impacto potencial en los residentes. "A todos estos casos les está yendo bien clínicamente. Y eso sugiere que la gravedad de la enfermedad, que incluso si está aquí, permanece en una categoría de leve a moderada", dijo Gayles el 6 de marzo de 2020. En ese momento, el condado llevó a cabo el contrato rastreando a los tres individuos infectados y buscando señales de que la enfermedad se estaba propagando.
Antes de que el virus llegara al condado de Montgomery, ya se había propagado rápidamente por todo el mundo. Solo unos días antes, el 3 de marzo de 2020, Gayles informó al Concejo del Condado de Montgomery sobre las medidas preventivas y de preparación para el coronavirus. "En el peor de los casos, si tenemos que intensificar nuestra respuesta y la gente puede tener que ponerse en cuarentena y pasar tiempo en casa, o si las escuelas y las empresas están cerradas durante un período prolongado, asegurándose de que tengan algunos productos esenciales en casa", dijo. Era un escenario "si" el condado de Montgomery pronto se haría realidad.
Montgomery County Council is receiving a briefing about the Coronavirus (COVID-19) to get updated information and discuss efforts to ensure the health and safety of all residents. More details about the county's prevention and preparation efforts coming soon… @MoCoCouncilMD pic.twitter.com/2E2islK49S

— Jordan Lindsay (@TVJordanLindsay) March 3, 2020
En diciembre de 2020, MyMCM entrevistó al Dr. Gayles en nombre de todos los socorristas del condado de Montgomery por su arduo trabajo durante la pandemia. "Aunque tuvimos prácticas a través de diferentes ejercicios, este es el evento de una carrera para casi todos, porque nadie había vivido este tipo de experiencia antes", dijo. Después de ese primer aumento significativo de casos, Gayles dijo que el condado fue agresivo en su respuesta.
MyMCM @mymcmedia recognizes the county's first responders' heroic work throughout the COVID-19 pandemic, and that's why they have collectively been selected for the inaugural MyMCM Honors award. I interviewed Dr. Gayles on their behalf. https://t.co/pRabVNyIjs pic.twitter.com/ML0BuAM0tc

— Jordan Lindsay (@TVJordanLindsay) January 1, 2021
Con una posible luz al final del túnel, y mientras varias vacunas han llegado al público, los funcionarios del condado, incluido Gayles, han expresado sus frustraciones cuando se trata de asignar recursos estatales a los residentes del condado de Montgomery. El condado acaba de anunciar el martes que un sitio de vacunación masiva llegará a Montgomery College Germantown, lo que los concejales vieron como un paso positivo. Hace semanas que se llevan a cabo planes para reabrir las empresas, las escuelas y otros recursos del condado. El 15 de marzo vio otra fase de reapertura de las Escuelas Públicas del Condado de Montgomery con muchos estudiantes regresando al aprendizaje en persona.
Desde que el virus arrasó el mundo, la mayoría de las cosas se han hecho de forma virtual, incluida la conferencia de prensa semanal COVID-19 de Elrich, donde se han proporcionado actualizaciones. El viernes, los funcionarios del condado tomaron la difícil decisión de formar parte de la junta de salud y retrasaron el audaz esfuerzo de reapertura del gobernador Larry Hogan. "No estamos fuera de peligro todavía y tenemos trabajo por hacer", dijo Elrich.
Dado que la cantidad de casos positivos y hospitalizaciones ha disminuido en los últimos meses, el condado de Montgomery aún lidera el estado de Maryland en la cantidad de muertes por coronavirus.