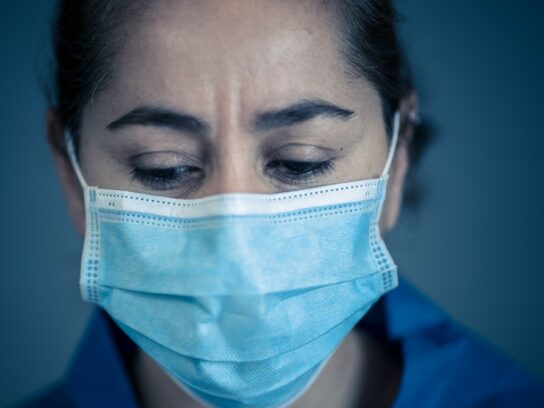 Según reportó el periódico The Washington Post en un artículo, los datos más recientes muestran que los 200,000 residentes hispanos del condado de Montgomery representan más de dos tercios de las nuevas infecciones, a pesar de que son sólo una quinta parte de la población del condado.
Los defensores atribuyen la disparidad en parte a las fallas del gobierno para proporcionar un fácil acceso a las pruebas y la atención médica en las comunidades latinas desatendidas, donde los residentes tienen más probabilidades de enfrentar condiciones laborales y de vida que hacen que sea más difícil evitar el virus, según el periódico.
Los Concejales hispanos Gabe Albornoz y Nancy Navarro se pronunciaron en sus cuentas de Twitter, respecto a las nuevas estadísticas, y dicen que están trabajando al respecto en una iniciativa más comprensiva que ayude a la comunidad latina e inmigrante que reside en el condado.
Although the rise of community spread has declined in #MoCo, Latinos & vulnerable comms remain at high risk for #COVID19. I am working w/@nancy_navarro & @MoCoDHHS to address this issue immediately. We must do all that we can to continue to save lives.https://t.co/hfXM7mT7EI

— Gabe Albornoz (@albornoz_gabe) July 14, 2020
In the coming days, Councilmember Albornoz and I will be sharing additional details regarding a more comprehensive Initiative targeted towards tackling the disproportionate impact COVID-19 is having in the County's Latino and immigrant community.

— Nancy Navarro (@nancy_navarro) July 14, 2020
Mientras tanto, Gustavo Torres, Director Ejecutivo de la organización comunitaria CASA lanzó un comunicado de prensa en el que expresa que "la crisis de COVID-19 ha impactado desproporcionadamente a las familias latinx del condado de Montgomery, especialmente a aquellos que son trabajadores de primera línea. Los latinx representan aproximadamente el 20% de la población del condado de Montgomery y, sin embargo, según un reciente artículo de investigación del Washington Post, nuestra comunidad representa el 74% de los casos positivos de COVID-19 en el mes de junio. Esto es inaceptable".
MUST-READ from CASA Executive Director Gustavo Torres: "The #COVID19 crisis has disproportionately impacted #MontgomeryCounty's #Latinx families, especially those who are frontline workers. Latinxs represent roughly 20% of #MoCo. This is unacceptable!" https://t.co/VgohMm1E2T pic.twitter.com/QOqDNbfTBi

— CASA (@CASAforall) July 16, 2020
Según los datos del gobierno de Montgomery, reportados el jueves 16 de julio, 135 hispanos han perdido la vida por Covid-19 en el condado de las 725 muertes en total, y hay más de 16 mil casos de coronavirus.