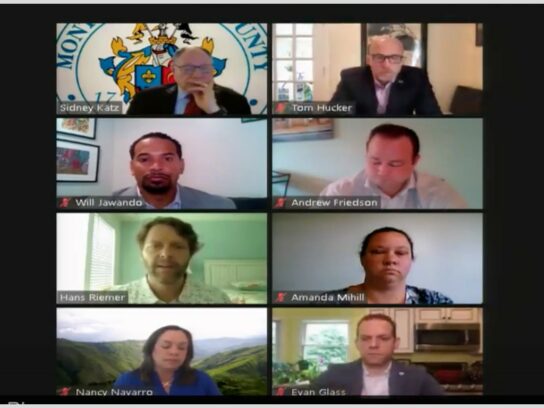 Durante una sesión el martes, los miembros del Concejo del Condado de Montgomery aprobaron por unanimidad la asignación especial de la Respuesta Dirigida a COVID-19 del Comité Ejecutivo del Programa de Salud Afroamericano.
Council approves $3.3 million special appropriation for the African American Health Program's Targeted #COVID19 Response. The funding was spearheaded by Councilmembers @RicePolitics & @willjawando & sponsorsed by the full Council. View the staff report: https://t.co/I78r1kygaI . pic.twitter.com/ukhktOeAC4

— Montgomery Council (@MoCoCouncilMD) August 4, 2020
Con esta estrategia integral, más de $3 millones podrían destinarse a esfuerzos continuos en respuesta al coronavirus, y se concentrará en los códigos postales del condado con un alto número de casos confirmados de COVID-19, donde los residentes afroamericanos representan al menos el 20 por ciento de la población. Los miembros del Concejo dicen que se prestará especial atención a los códigos postales 20903, 20904 y 20906.
Los fondos de apropiación especial de $3,354,084 se centrarán principalmente en los esfuerzos de búsqueda de contactos y un programa de evaluación que incluirá tanto un sitio de evaluación permanente en el este del condado, como sitios de pruebas emergentes en una variedad de locaciones de fácil acceso.
Algunos líderes locales afirman que la población afroamericana se ha visto afectada de manera desproporcionada por la crisis de salud de COVID-19, tanto a nivel nacional como local. Los datos muestran tasas de mortalidad más altas entre comunidades específicas en comparación con otras poblaciones demográficas.
Según el Comité Ejecutivo del Programa de Salud Afroamericano (AAHP), en medio de la pandemia de COVID-19, algunos residentes afroamericanos están experimentando peores resultados de salud en promedio que otros grupos étnicos o raciales, debido a condiciones de salud crónicas a largo plazo y disparidades sociales. Las afecciones de salud subyacentes relacionadas incluyen afecciones pulmonares crónicas y diabetes. Otros factores también juegan un papel importante, como la disminución de acceso a la atención médica, las tasas más altas de pobreza y la inestabilidad de la vivienda, según los funcionarios de salud.
Durante la sesión, el concejal Craig Rice aprobó su voto en honor a su primo, quien falleció recientemente debido a COVID-19.
Todos los miembros del Concejo acordaron que esta acción es necesaria para garantizar que todos en la comunidad tengan el mismo acceso a los recursos para mitigar COVID-19. La apropiación especial es patrocinada por todo el Concejo y fue encabezada por los miembros del Concejo Craig Rice y Will Jawando.
Continuing our fight to eliminate the spread of COVID-19, the Council approved $3,354,084 in funding for a targeted COVID-19 response in the African American community
– https://t.co/KOUVUrwvPA

— Nancy Navarro (@nancy_navarro) August 4, 2020
So proud to have worked with @RicePolitics @aahpmoco & my colleagues to pass $3.3 million in funding for our #COVID19 response in our Black/African American community. This will fund increased testing, targeted communications & outreach & the creation of a Black doctor network. https://t.co/OqLwKyB1Qb

— Will Jawando (@willjawando) August 4, 2020
Aquí puede ver la sesión completa del Concejo: