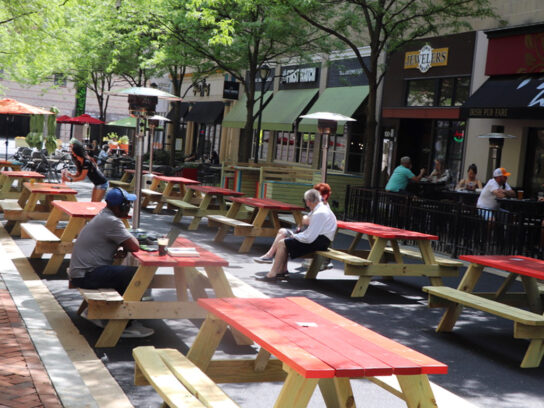 Montgomery County's Shared Streets program will continue throughout the summer, the county announced in a June 11 statement.
The Department of Transportation (MCDOT) began the Shared Streets program when the COVID-19 pandemic started. It closed some roads to cars to allow outdoor activities like walking and dining. Areas like the Bethesda Streetery offer outdoor in-street seating for dining. In April, the City of Rockville closed Gibbs Street to open a streetery in Rockville Town Square, in partnership with Federal Realty.
"It is great news that MCDOT will continue our widely popular Shared Streets program throughout the summer," County Executive Marc Elrich said in a statement. "As we continue to reopen, we are encouraging all Montgomery County residents and visitors to support our restaurants. The Shared Streets programs will allow restaurants to serve more tables while diners can enjoy summer weather and festive atmospheres."
The county said many "neighborhood greenways" that limited roads to pedestrians, bicyclists and local traffic will change or reopen to vehicles.
In late May, the county council introduced a resolution showing support for maintaining Open and Shared Streets programs. On Tuesday, councilmembers will vote to approve it. All members support the resolution, according to a staff report.
*New*@MontCoExec Marc Elrich announces @MCDOTNow 's #MoCoSharedStreets program will continue through Summer 2021

Details= https://t.co/4d5ckU67WI@WheatonMD @SilverSpringMD @BethesdaUP @MontgomeryCoMD @MoCoCouncilMD @MontCo_Highways pic.twitter.com/Zuxcnyq4hL

— mococommuter (@mococommuter) June 11, 2021