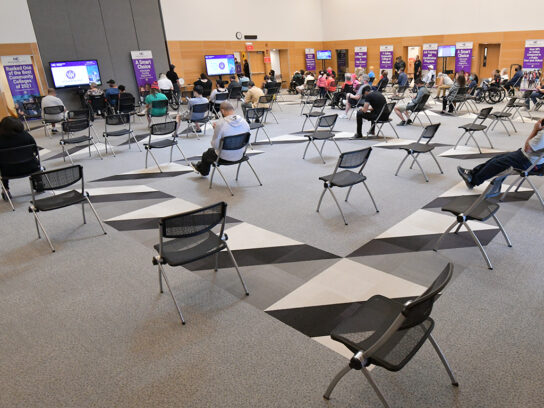 Since Monday, Montgomery County residents older than 16 have been able to preregister to receive the coronavirus vaccine at all state and county operated vaccine clinics.
This news comes as coronavirus cases for children have been on the rise across the country—particularly in the state of Michigan, which currently is experiencing the worst outbreak in the nation, with 49 children currently hospitalized with COVID-19 symptoms. CDC Director Rochelle Walensky said at a press briefing on April 10 that "many outbreaks in young people are related to youth sports and extracurricular activities."
MyMCM asked Gov. Larry Hogan at the Montgomery College Germantown vaccination site on April 7 about how the state plans to promote the vaccine to youth 16 and up.
"We're seeing a real sense of urgency among young people—there seems to be enthusiasm among young people," Hogan said. He added that the state will continue its campaign to promote the safety of the vaccines, but they aren't currently concerned about vaccine hesitancy among young people.
In Montgomery County, COVID-19 cases for residents under the age of 19 are increasing. According to data from the Montgomery County Department of Health and Human Services (DHHS), 25.5% of coronavirus cases in April have consisted of residents under the age of 19. In March, this age group made up only 22.1% of the cases. Since the start of the pandemic, Montgomery County DHHS reports that only one resident under the age of 30 has died from the coronavirus.
Now that public schools have reopened, Maryland Department of Health reported on April 7 that there were six Montgomery County schools with COVID-19 outbreak-associated cases.
The only COVID-19 vaccine currently available for Marylanders under the age of 18 is the Pfizer vaccine, which is approved for those 16 and up. On April 9, Pfizer and its German partner BioNTech requested that the U.S. Food and Drug Administration (FDA) expand the emergency use of their coronavirus vaccine for children ages 12 through 15.
Moderna is in the process of testing the effectiveness of its COVID-19 vaccine in children.
Councilmember Gabe Albornoz told MyMCM that it's important for youth to get vaccinated so they can safely get together with friends, play sports, and attend graduation.
"It's important that everyone that can get a vaccination receives one so that we can have herd immunity and that protects all of us," Albornoz said.
Related Posts:
Starting Tuesday, Marylanders 16+ Are Eligible for Vaccine at Mass Vaccination Sites
Hogan, Elrich Emphasize Unity at Germantown Mass Vaccination Site
Hogan: Montgomery County is Maryland's Biggest Consumer of Vaccines
COVID-19 Numbers: a Quarter of County Residents are Fully Vaccinated