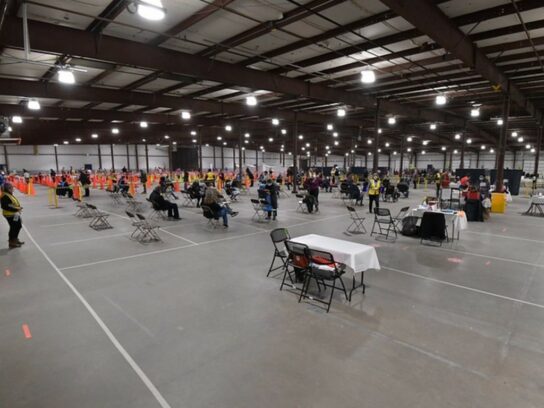 Durante una conferencia de prensa el martes, el gobernador Larry Hogan anunció que se abrirá un sitio de vacunación masiva en Montgomery College en Germantown, la semana del 5 de abril.
Es uno de los seis sitios de vacunación masiva que se abrirán en Maryland en abril. Para fines del mes, Maryland tendrá un total de 12 sitios de vacunación masiva. Los residentes de Maryland interesados en vacunarse en un sitio de vacunación masiva, administrado por el estado, pueden registrarse previamente en línea si están incluidos en los grupos de vacunación de fase 1, 2A o 2B del estado.
Today @GovLarryHogan announced the state will be working with Montgomery County,@holycrosshealth and @MDHealthDept to open a mass vax site at @montgomerycoll Germantown. When it is fully operational the site will administer 3000 vaccines per day. @albornoz_gabe @RicePolitics pic.twitter.com/mibH75OMXG

— Montgomery Council (@MoCoCouncilMD) March 23, 2021
Se espera que el sitio de vacunación masiva de Germantown tenga la capacidad de administrar 3,000 vacunas de COVID-19 por día.
El ejecutivo del condado, Marc Elrich, emitió una declaración sobre el anuncio de Hogan, agradeciendo al gobernador, los funcionarios de salud estatales, Montgomery College y Holy Cross Health por sus asociaciones en el desarrollo de un sitio de vacunación masiva.
"Con miles de residentes del condado de Montgomery que salen del condado y conducen a otras jurisdicciones para vacunarse, nos complace tener un sitio que brindará un mejor acceso para nuestros residentes y otros residentes de Maryland", dijo Elrich en el comunicado.
County Executive Marc Elrich and County Council Applaud Announcement of Mass Vaccination Site Coming to Montgomery County https://t.co/YaVnVg4JzC pic.twitter.com/569ZFMLHEL

— Montgomery Council (@MoCoCouncilMD) March 23, 2021
Elrich instó a los residentes del condado a vacunarse cuando puedan. "Como la comunidad más grande y diversa de Maryland por raza, estatus socioeconómico y cultura, hemos estado, y continuaremos asegurándonos de que nuestros esfuerzos de vacunación sean equitativos en todo el condado", dijo.
"Este sitio de vacunación masiva será más accesible por transporte público que otros lugares del estado, lo que facilitará que las personas que dependen del transporte público lleguen al sitio", dijo Elrich.
3) VACCINE UPDATE. Maryland has administered 2,252,974 COVID-19 vaccines and is averaging 43,882 shots per day.

More than 70% of all Marylanders over 65 have been vaccinated, and nearly 35% of all Marylanders over 18 have been vaccinated.

— Kata D. Hall (@katadhall) March 23, 2021
La noticia se produce cuando Maryland está entrando en la fase 2A de su plan de distribución de vacunas, lo que significa que los residentes de Maryland de 60 años o más pueden registrarse para obtener un COVID-19. Para el 27 de abril, Maryland entrará en la fase 2 de la vacuna, lo que permitiría a los residentes de Maryland de 16 años o más inscribirse en las citas de vacunación.
Hogan dijo que la Casa Blanca les dijo a los gobernadores que esperaran que los suministros de vacunas, en particular la vacuna Johnson & Johnson, aumenten en las próximas semanas.
Los líderes locales han recurrido a Twitter para expresar su entusiasmo después de semanas de presionar al estado para que abra un sitio de vacunación masiva en el condado de Montgomery.
IT'S OFFICIAL! Mass vax site coming to #MoCo at @montgomerycoll Germantown Campus on April 5.

My deepest gratitude & thanks to our outstanding residents, community partners and state and federal reps who joined us in calling for a mass vaccination site in Montgomery County.

— Councilmember Tom Hucker (@CmHucker) March 23, 2021
Great news from @GovLarryHogan ! Montgomery County's first mass vaccination site will be opening the week of April 5 and will be at @montgomerycoll Germantown Campus. Thank you to everyone in the community who helped us to advocate and make this site a reality. #VaccineEquity

— Nancy Navarro (@nancy_navarro) March 23, 2021
Confirmation of the good news @ReadyMontgomery and @MoCoDHHS delivered last week. This should be able to ramp-up to deliver 3,000 doses a day if we get that much supply: https://t.co/6Q3pXshdbd

— Councilmember Andrew Friedson (@Andrew_Friedson) March 23, 2021
Clearing up any confusion, @GovLarryHogan has officially declared that Montgomery County –– Maryland's largest and most diverse jurisdiction –– will finally get a mass vaccination site the week of April 5 at Montgomery College's Germantown campus.

— Evan Glass (@EvanMGlass) March 23, 2021