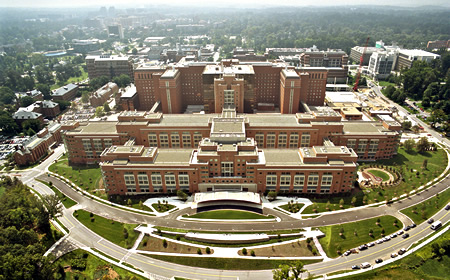 The National Institutes of Health in Bethesda is launching a public-private partnership in hopes of accelerating work to create a COVID-19 vaccine and treatment options, it announced April 17.
The NIH, along with the Foundation for the NIH, joined more than a dozen biopharmaceutical companies and federal government agencies as well as the European Medicines Agency "to develop an international strategy for a coordinated research response to the COVID-19 pandemic," it announced in a news released.
The group will be called Accelerating COVID-19 Therapeutic Interventions and Vaccines partnership.
"We need to bring the full power of the biomedical research enterprise to bear on this crisis," said NIH Director Dr. Francis S. Collins. "Now is the time to come together with unassailable objectivity to swiftly advance the development of the most promising vaccine and therapeutic candidates that can help end the COVID-19 global pandemic."
Added Dr. Paul Stoffels at Johnson & Johnson, "COVID-19 is the most significant global health challenge of our lifetime, and it will take all of us working together as a global community to put an end to this pandemic."
The research community will sift through more than 100 potential preventives and therapeutics, according to the news release.
Participating in the partnership from the U.S. government are the NIH, U.S. Health and Human Services Office of the Assistant Secretary for Preparedness and Response, the U.S. Food and Drug Administration and the Centers for Disease Control and Prevention.
Companies involve include Amgen, AstraZeneca, Bristol Myers Squibb, GlaxoSmithKline, Eli Lilly and Company, Merck Co., Inc., Pfizer and several others.