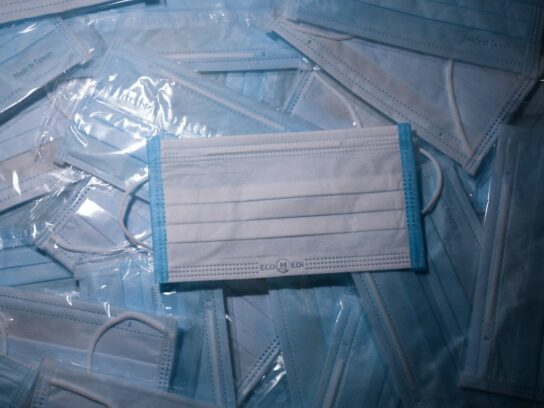 El Concejo del Condado de Montgomery, votó unánimemente el jueves para exigir que todos los residentes, independientemente del estado de vacunación, usen cubiertas faciales en espacios cerrados, una vez que el Condado de Montgomery se haya convertido en un área de "transmisión sustancial" de COVID-19.
Residents can view the Board of Health regulation passed by the Council today to help prevent the spread of #COVID19 by reinstating indoor masking requirements in public spaces. It takes effect on Aug. 7 at 12:01 a.m. View the resolution at https://t.co/bcLzDAUB7D . pic.twitter.com/ImH5DPpINa

— Montgomery Council (@MoCoCouncilMD) August 5, 2021
El Dr. Travis Gayles, Oficial de Salud del Condado, notificó al Concejo durante la audiencia pública que el condado es ahora un área de transmisión sustancial. La regulación de la Junta de Salud que exige mascarillas en sitios cerrados entrará en vigencia el sábado 7 de agosto a las 12:01 a.m.
Pero, por qué es tan importante el uso de la mascarilla, incluso entre personas ya vacunadas? el Doctor César Palacios, Director Ejecutivo de la Clínica comunitaria Proyecto Salud, explica:
El martes 27 de julio, los Centros para el Control y la Prevención de Enfermedades (CDC, por sus siglas en inglés), citando nuevos datos sobre la variante Delta, recomendaron que las jurisdicciones con tasas de transmisión sustanciales o altas de COVID-19 requieran que las cubiertas faciales se usen en lugares cerrados. El CDC define la transmisión sustancial como 50-99 casos por cada 100.000 residentes durante un período de siete días, dice el comunicado.
"La variante Delta es la cepa dominante que circula", dijo el Dr. Travis Gayles, "y aunque tenemos una alta tasa de vacunación en nuestra comunidad, ahora sabemos que la variante Delta es muy fácil de propagar. Para proteger a aquellos que no son elegibles para vacunarse, como los niños menores de 12 años, debemos tomar todas las medidas posibles para frenar la propagación del virus. Las mascarillas son una primera línea de defensa importante para mantener baja la transmisión comunitaria", dijo durante la audiencia.
"Agradezco el voto de hoy del Concejo del Condado de Montgomery, que forma parte de la Junta de Salud, apoyando nuestra recomendación de salud pública de restablecer el 'enmascaramiento' en lugares cerrados de acuerdo con las pautas de los CDC", dijo el Ejecutivo del Condado Marc Elrich.
El ochenta por ciento de los 3.000 condados del país o el 90 por ciento de la población del país se encuentran en el nivel de "transmisión sustancial", incluidos muchos en la región metropolitana de Washington, D. C., asegura el gobierno local.
Visite el sitio web de COVID-19 del condado para más información. Para obtener información en español, hacerse la prueba del Covid-19, recibir la vacuna y conocer sobre recursos disponibles, puede ingresar a la página web de la iniciativa Salud y Bienestar aquí.