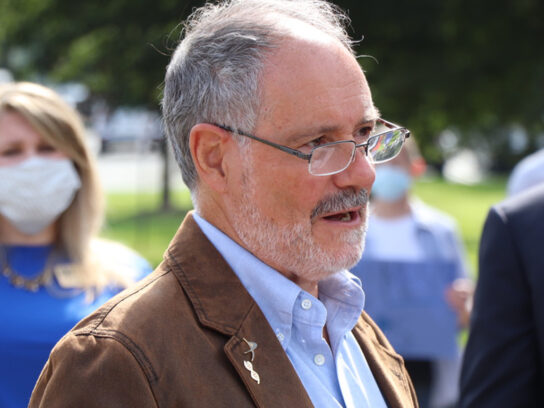 John Compton, the mayor of Washington Grove, says the absence of a functioning post office would have a "devastating effect" on his small town, which takes up 200 acres of land.
Washington Grove, the historical "town within a forest," was incorporated in 1937, and is home to around 555 people with about 200 households. The town is located near the CSX Train stop in Gaithersburg, and is two miles from the Shady Grove Metro station.
Washington Grove does not have mail delivery so the residents rely on the post office for communication.
"One of the unusual characteristics of our town is we do not receive mail delivery, preferring to keep our local post office as a place for communicating with the outside world," Compton said at U.S. Rep. David Trone's (D-Md.) "Don't Mess with the USPS" news conference Friday outside of the Gaithersburg Post Office located on Summit Avenue.
"Obviously the post office has come under criticism, but the obvious solution—clearly not being taken by the current administration—is that you fix the problems, you don't destroy the institutions," Compton said.
Compton's comments come as people across the country have been raising concerns about postal delays, especially weeks before an election affected by a pandemic that has left—according to the CDC—176,223 Americans dead as of Tuesday.
Maryland is one of several states suing the U.S. Postal Service to reverse cost-cutting policy changes, which the state's Attorney General Brian Frosh said "are designed to disrupt the election."
I agree that USPS is "fully capable" of delivering the mail. But "committed? We are not dropping our lawsuit. https://t.co/TSYApxudTP

— Brian Frosh (@BrianFrosh) August 21, 2020
"They strike at the core of our democracy," said Frosh said in a statement. "That is bad enough, but [President] Trump and [U.S. Postmaster General Louie] DeJoy are also hurting innocent bystanders: Americans who are waiting for their medicine or their social security checks. This conduct is harmful, illegal and unconstitutional. We are filing suit to stop it."
Related Post:
Raskin Leads Rally to 'Save the Post Office' with Leisure World Residents