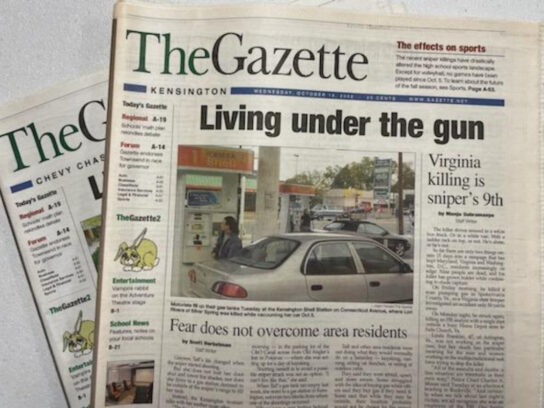 It's been 20 years since D.C. snipers went on a three-week shooting spree that would terrorize the entire Washington, D.C. region. The first shootings took place in Montgomery County and by the time the snipers were apprehended 3 weeks later on Oct 24, 10 people were dead and three were injured.
MyMCM's special presentation, "3 Weeks of Hell: The DC Sniper Attacks, 20 Years Later", hosted by Chris Gordon, takes a look back to a time when daily life in the county ceased to exist. The first segment of the show,"3 Weeks of Hell: Moose, Police Respond to Random Shootings" gives an inside look at the first few days of the police investigation headed by former Police Chief Charles Moose.
The second segment of the show includes local news coverage from 2002, when residents were fearful to go outdoors and schools canceled all outdoor activities. Watch local news coverage from 2002 as business owners talk about the impact they felt during those 3 weeks in October and hear comments by former Rockville Mayor Larry Giammo.
Then, Chris Gordon speaks with David Reichenbaugh, who was a lieutenant in the Maryland State Police and a member of the sniper task force. Reichenbaugh gives an inside look at the hunt for the sniper, the missteps in the investigation and the clues that led to the capture of the snipers on Oct. 24, 2002.