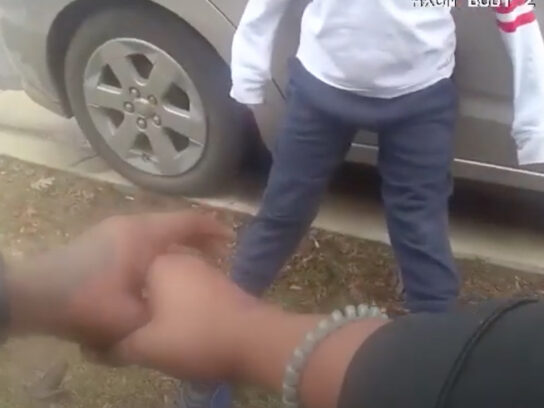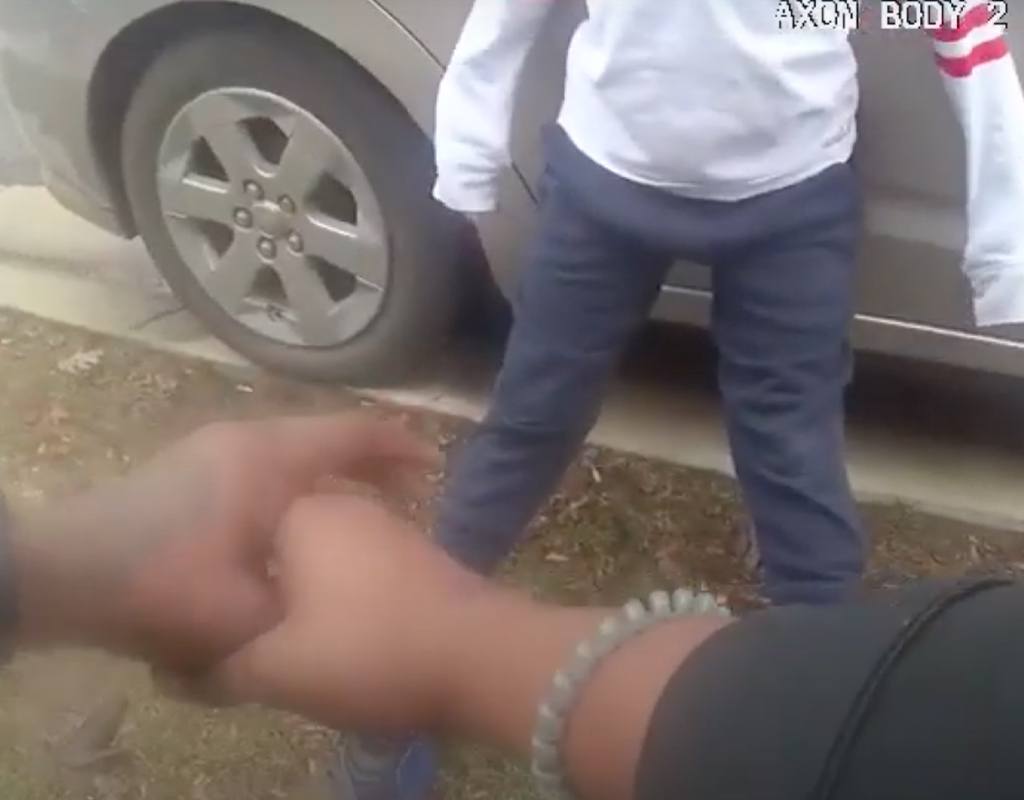 La policía del condado de Montgomery publicó un video de 51 minutos y 22 segundos de un incidente del 14 de enero de 2020, en el que un estudiante de Kínder de East Silver Spring, que se había alejado de su escuela, fue localizado por agentes de la policía del condado de Montgomery (MCPD). El video muestra a dos policías gritándole al niño, en un momento, justo en su cara, mientras el niño de cinco años lloraba tan fuerte que comenzó a toser. Le dijeron que sus padres deberían golpearlo cuando llegara a casa, según el video.
También esposaron al niño.
El niño presuntamente peleó en la escuela y luego huyó del edificio. La escuela llamó a la policía cuando el menor salió del edificio.
Advertencia: el siguiente video tiene contenido sensitivo 
En las imágenes de la cámara corporal, una vez que la madre del niño llegó a la escuela, los oficiales y la madre discutieron los problemas del niño frente a él. "No puedo disciplinarlo, porque el gobierno no me lo permite", dijo la madre del menor, y agregó que no quería ir a la cárcel si lo golpeaba. Una oficial de policía le dijo que debería golpearlo, en lo que parece un estímulo para que lo haga.
"Puedes golpear a tu hijo. Simplemente no dejes cortes, quemaduras", le dijo la oficial a la madre del niño.
Los oficiales Dionne Holliday y Kevin Christmon siguen siendo empleados de MCPD, y la entidad no discutió los resultados de la investigación del incidente.
Please read my statement about the @mcpnews video that was released today: https://t.co/7QVRA4ecpH. pic.twitter.com/RtqSsILiyH

— County Exec Marc Elrich (@MontCoExec) March 26, 2021
El ejecutivo del condado, Marc Elrich, escribió una declaración después de ver el video. Lo llamó "difícil de ver". También dijo que le pidió al jefe de MCPD, Marcus Jones, que revisara la capacitación policial sobre su interacción con los niños.
"Nuestros oficiales de policía no son trabajadores sociales, psicólogos o terapeutas y no deberían dar consejos ni instrucciones sobre la crianza de los hijos. Las funciones de la policía deberían terminar tan pronto como el personal de la escuela esté presente para hacerse cargo del cuidado de un niño", escribió Elrich.
El concejal del condado Will Jawando, quien dijo que intentó durante tres meses que se publicara el video, escribió en un comunicado: "Observé con horror cómo, lo que solo puede describirse como una pesadilla, se desarrolló durante casi una hora. Me sentí enfermo. Todos vimos como se burlaban de un niño pequeño, degradándolo, metiéndolo en la parte trasera de un auto de policía, gritarle desde la parte superior de los pulmones de un policía adulto, a centímetros de su cara. Esto es violencia ".
TRIGGER WARNING: MCPD has released the body cam footage I have been requesting related to the 5 year old detained by police, my statement and a link to the footage below. pic.twitter.com/joJlwdiHNl

— Will Jawando (@willjawando) March 26, 2021
Los nueve concejales del condado comentaron sobre el video de la policía antes del inicio de su reunión sobre los límites del público en los eventos deportivos. Muchos de ellos se disculparon públicamente con la familia del niño.
El presidente del concejo, Tom Hucker, dijo que estaba "completamente horrorizado y disgustado por lo que vio". Se refirió específicamente a la parte en la que los oficiales aconsejan a la madre del niño que lo golpee, y agregó: "No tengo palabras".
El concejo pidió al departamento de policía que los informara sobre lo que había sucedido, y sobre qué medidas se tomaron al respecto. Jawando dijo que si a los concejales se les dice que no pueden leer los informes debido a problemas de privacidad otorgados a los oficiales de policía, entonces "esta ley debe cambiarse" en Annapolis.
El concejal Andrew Friedson calificó lo sucedido como "un fracaso total … de humanidad básica", y agregó: "Estoy consternado y horrorizado. Estoy totalmente conmocionado por esto".
Varios concejales dijeron que estaban molestos porque ni siquiera se habían enterado del incidente durante un año completo y solo porque la familia del niño había presentado una demanda ante la madre, Shanta Grant. Esa demanda civil acusa a los oficiales de asalto, agresión, falso arresto, encarcelamiento falso, negligencia e infligir angustia emocional.
Please read today's statement from the Montgomery County Council on the Jan. 2020 police interaction with a five-year-old student and the release of the MCPD body-worn camera footage. https://t.co/b4EjD4tlWG
View Councilmember comments: https://t.co/lsR8HQk4C3 . pic.twitter.com/QTQDUOclo7

— Montgomery Council (@MoCoCouncilMD) March 26, 2021
La Unión de MCPD, la Orden Fraternal de Police Lodge 35, emitió un comunicado sobre las imágenes.
Lodge 35 escribió: "Los agentes de patrulla no reciben capacitación específica para abordar eventos como el que ocurrió el 14 de enero de 2020. Los miembros de Lodge 35 que estuvieron involucrados cooperaron con la investigación de casi un año y el jefe de policía tomó medidas recientemente para abordar cómo el evento fue manejado ".
Please see our press release of this incident pic.twitter.com/apn6Ym7VX2

— FOP Lodge #35 (@MCLodge35) March 26, 2021
El superintendente de las Escuelas Públicas del Condado de Montgomery (MCPS), Jack Smith, y la presidenta de la Junta de Educación, Brenda Wolff, también emitieron una declaración, señalando que no hay excusa por el comportamiento de los adultos.
"Fue extremadamente difícil para nosotros ver el video del incidente que involucró a un estudiante de 5 años en la Escuela Primaria East Silver Spring. Nos duele el corazón por este estudiante. No hay excusa para que los adultos hablen o amenacen a un niño de esta manera. Como padres y abuelos, sabemos que cuando las familias envían a sus hijos a la escuela, esperan que el personal los cuide, los mantenga seguros y utilice los procesos de intervención adecuados cuando sea necesario. En MCPS, tenemos el compromiso de abordar el bienestar socioemocional de nuestros estudiantes, celebrando sus fortalezas y ayudándolos a alcanzar su máximo potencial".
También escribieron: "Ningún niño es malo. También esperamos que el personal de MCPS siga las estructuras descritas para la intervención y el apoyo de los estudiantes, así como la seguridad escolar. Le hemos pedido al liderazgo de MCPS que se asegure de que los procedimientos y expectativas del sistema escolar sean claros para todo el personal . "
La Presidenta del Consejo de Educación, Brenda Wolff y el Superintendente Jack Smith han publicado unas declaraciones sobre el incidente en East Silver Spring ES: https://t.co/Q7xt20oXqZ

— MCPS en Español (@MCPSEspanol) March 26, 2021